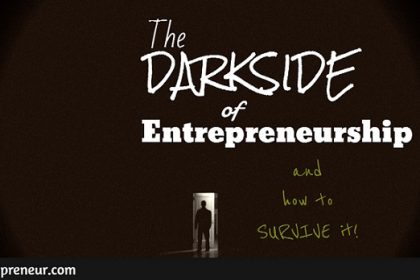 The thought of going into business or doing 'your own thing' as it is popularly called can be very appealing at first. This
is especially true for most people who want to make the switch from the limited world of employment to the unlimited world of business. But sooner or later, the untold harsh realities will begin to set in and the truth is; a lot of people are unfamiliar with these harsh realities.
For the majority of you who have gone into business nurturing only the juicy thoughts of being an entrepreneur, things are about to get very sour. I'm sorry, but there's some really bad news I need to break to you; entrepreneurship as much as it's celebrated also has a dark side. At least, I've been able to identify 8 of them.
I'm sure at the end of this, more will come up from your contributions and that of others in the comment section. Coming to terms with this dark side of entrepreneurship is what this unusual article is about.
8 Harsh Realities Of Being An Entrepreneur
(1) Entrepreneurs get paid last
(2) Entrepreneurs are objects of mockery
(3) Entrepreneurs don't have definite working hours
(4) Entrepreneurs fail more often than they succeed
(5) Entrepreneurs don't have specific job descriptions
(6) Entrepreneurs go broke for long before ever growing rich
(7) Entrepreneurs attract more enemies than friends
(8) Entrepreneurs make their living by giving
Entrepreneurs Get Paid Last
I usually enjoy seeing the reaction on people's face every time I make that statement. It is one of the most effective ways of differentiating a true entrepreneur from a 'wannabe'. Why? Because you can instantly perceive what their real motivation is for going into business. For those with a get-rich-quick mentality, their level of disappointment is usually obvious. But for those who really want to change the world through the power of their idea, they often appear indifferent.
Nobody wants to be the last when it comes to the issue of money, but unfortunately for entrepreneurs, this is one of the realities they have to put up with. Being an entrepreneur often demands that you give up everything you own all in pursuit of an idea whose potentials of success is not 100% certain.
Yet, as an entrepreneur, when your idea eventually succeeds, you'll be the last person to be rewarded from the very idea you invented. This is the harsh reality of entrepreneurs' going broke for a long time before ever growing rich. What makes this so?
The Incubation Period of Your Idea

That idea which often inspires your journey into the world of business will be tried, refined and must be sustained for a very long time before it will eventually hit the mainstream. Every idea must undergo its own incubation period till it reveals its potential for success.
During this period, every other person but the entrepreneur must be paid in order to sustain the idea in this initial startup stage. Employees, contractors, suppliers, marketers, consultants, even customers and other collaborators that will be involved in making the idea work will have to be paid for their involvement, except you the entrepreneur.
As an entrepreneur, you are the mother of your idea and the burden of preserving, nurturing and delivering the idea rests entirely on your shoulders. Your first test as you make your entry into the world of business is the test of your idea. No one is going to buy into your idea easily. So you'll have to sweat it out all by yourself to prove the viability of your idea.
This process of proving your idea's viability is what delays your payment or reward date because it will cost you so many things, both in kind and in cash. Why? Because very few people will work with you during this process for free. As far as they are concerned, your idea is still a foetus and not yet a living entity [brand].
Meaning, the possibility of your business idea surviving is not yet certain, just as every mother knows that until a baby is delivered, anything that can possibly go wrong can still happen. This is the harsh reality of entrepreneurs' high rate of failing more often than succeeding.
It's Your Job to Nurture Your Idea Till Maturity
Like a baby in the womb, your idea must be nurtured or else it will die prematurely. The whole cost associated with preserving, nurturing and sustaining your idea till maturity will be borne by you the entrepreneur. Therefore, in the early days of your business, you will continuously be spending money long before you even start making a penny.
To survive these early days, you must become as a farmer who must cultivate the seed which was planted till it germinates and is fully ripe for harvest. Surviving these early days is your ultimate test as an entrepreneur.
How do you sustain yourself when you've given up everything you own to pursue this idea? How do you survive till pay day? What keeps you going during this challenging phase of your business? How do you survive when the very idea that is supposed to be your means of sustenance is counting on you for sustenance?
Feed on passion!
Passion is what keeps you going till pay day –that sheer joy of creativity that comes with doing something you love.
When everything else seems to be lingering in these early days of your business, go back in your mind to the very moment you conceived the idea for the business. That sudden rush of adrenaline you felt when you first had the thought for the business is what you must keep in front of you during these dark phase of your business.
This is your only chance of surviving till pay day. This will keep you going when everything else seems to be failing. Passion is the fuel you need constantly for traveling down this rough road of entrepreneurship. A lot of people who aren't entrepreneurs will find it hard relating with this level of living and this is why most of the time, entrepreneurs are called crazy, daydreamers, misfits or even fools. This is the harsh reality of being an object of mockery.
You've just got to hang in there living off the conviction that your idea will survive till maturity. That maturity date of your idea is when it eventually becomes a recognized brand in the market you serve. So be sure the idea you are working on is one that you are naturally passionate about, not just because of the money or profit it can generate, but because of the difference [impact] it is going to make in the lives of those you serve. This is the harsh reality of making a living by giving.
If your idea lacks the potential to make a positive impact in the lives of your target market, when the going gets tough, you won't find it hard to back out. Why on earth would you want to hold on to a thing that is neither making you money [profit] nor making you happy [passion] nor making live better for others [impact]?
Over to you
Have you ever found yourself caught up in the dark side of entrepreneurship?
Are there any other harsh realities of entrepreneurship familiar to you?
What other challenges do you face as an entrepreneur in business?
How have you been able to cope with some of these harsh realities of entrepreneurship?
We are a community of entrepreneurs supporting one another, it's important you participate in the on going discussion by sharing your insights about the questions above.
Thanks for your time.
To your business success!