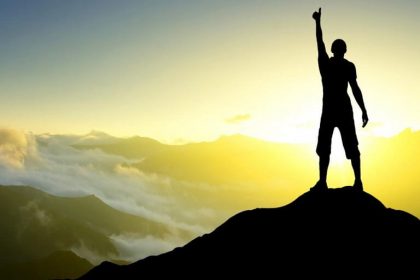 What's your entrepreneurial vision?
All great companies were first conceived as an idea in the mind of the founder. This founding idea must metamorphose into an entrepreneurial vision and brought to life if the startup is to succeed.
As an entrepreneur, having an entrepreneurial vision is a starting point; you are never too busy to look into the future. If you do not deliberately create the time to look into the future by creating an entrepreneurial vision for your startup, there's no way you will survive long.
Why?
Because entrepreneurial vision defines your business and the foundation on which your business model will be designed. So it is extremely important to have an inspiring, compelling and clear cut entrepreneurial vision before you even begin launching your business.
You see, the business world is very competitive and the companies that don't have a clear vision of where they are headed are easily eaten up alive by those competitions who do. When you don't have a vision, every destination becomes your bus stop. Every customer becomes a prospect. Every project becomes a sale. Every applicant becomes an employee.
In short, without an entrepreneurial vision, your startup, product or services will just be like that of everyone else, no significance!
What is Entrepreneurial Vision? 
Entrepreneurial vision is a picture of a preferable future for your startup business. It is a thing you create with your imagination and then make practical plans on how to achieve it. It is what you see your venture will be doing in the future, and what it should be doing today in order to get there.
Entrepreneurial vision is your own making; your role is that of a manufacturer creating a finished product, in this case; a preferable future; a better tomorrow for your startup. It's not by force; it's a choice. It entails making a choice to pursue the preferred life of your choice. It's not the same as your life purpose.
Purpose is not a picture that you paint, it's a call that must be obeyed – answered. It's not a thing you created, it's a thing created for you deposited in you. Purpose is not within your power to create, it's a thing you discover.
Purpose lies in your source and not in your choice. What does this mean?
Purpose is something hidden deep within you by the creator from your very beginning. It is a treasure that is to be discovered. You don't alter (change) it or choose (pick) it; it's discovered because it chooses you.
You must therefore make a choice to follow or submit to what you have discovered about yourself. Since you never made yourself, you can only search within yourself to discover what the creator hid in you.
Our task as humans is to uncover or discover what it is that we carry within us individually.
Your entrepreneurial vision is an instrument for fulfilling your life purpose. So your entrepreneurial vision (pictures of a preferred future) must be in alignment with your life purpose (what you were created to originally do).
Why?
Because your entrepreneurial vision has to do with how far you want to carry out your life purpose through your business.
Entrepreneurial vision is a question of the size of your startup dream – to what extent do you want to follow and carry out your life purpose? How far do you want to go in the direction of your purpose?
Your life purpose is your destiny – the end; your entrepreneurial vision is your legacy – the means to the end. Your entrepreneurial vision should lead you to fulfill your life purpose!
How to Create an Entrepreneurial Vision
To create an entrepreneurial vision for your startup, follow this simple process below.
Passion -> Purpose -> Vision
Passion, that thing which you enjoy doing and naturally excel at is the source of your purpose. Because it comes with you from birth, your purpose was defined by the creator.
You cannot choose your passion; no one says to himself/herself, this is what I want to enjoy doing. We all must submit to our passion, it is a force that consumes and inspires our life work.
Once you can tell what your passion is or are, purpose is the contribution you want to make on earth using that passion.
Your entrepreneurial vision becomes clearer when you have found purpose. It becomes the extent to which you want to fulfill purpose. Entrepreneurial vision is how far you want to go in the direction of your life purpose.
For example: "Company X aspires to be here, selling this product or providing this service, to these people, using this technology, or these means for this purpose."
How Entrepreneurial Vision Impacted My Business
Entrepreneurial vision plays a role in energizing and directing the birth, growth, and direction of new ventures, mine was no different. Entrepreneurial vision has greatly impacted my startup in the following ways;
The greatest impact of entrepreneurial vision on my business is the clear sense of purpose it gives to our entire operation.
These days as entrepreneurs, it has become increasingly difficult to really explain with clarity what your business is about as there are many 'me too' businesses out there. But through entrepreneurial vision, I have been able to set my company apart and stand for something very tangible in the mind of my target customers.
Entrepreneurial vision is how I chose an unusual business name –MADphilips. I added the acronym 'MAD' which stands for Making A Difference to my surname 'Philips' and registered it as my company name. It is the single most distinguishing factor of our business. It is the philosophy that drives all that we do.
Entrepreneurial vision helped us define our business. Our business is SIGNIFICANCE –empowering people, businesses and lives to be different and making a difference.
Today, MADphilips is fast becoming a Nigerian brand with a global appeal that is helping people, businesses and lives become dissatisfied with SURVIVAL and showing them how to make the crucial life changing transition from survival to significance.
Entrepreneurial vision has also helped to shape the kind of products/services we develop at MADphilips.
naijapreneur.com – a business and entrepreneurship resource was created to raise a tribe of unusual entrepreneurs and equip them with necessary knowledge and skills to build SIGNIFICANT [extra-ordinary] businesses that profit from purpose by changing the world!™.
Differentiate Online – a 360° digital marketing solution was created to help these significant businesses become an ICON in their respective industries through online marketing.
UniteNigeria.com – a platform for social change was created to unite the voices of Nigerians on pressing societal issues in order to make a difference by influencing positive changes in Nigeria.
asuqu.com – an online marketplace to buy and sell professional services in Nigeria, where I'm currently a co-founder was created to help talented and skilled Nigerians earn a living through their passion –doing what they love.
Conclusion
The desire to change the present into something better by solving a problem is the core driving force of every unusual entrepreneur. That desire is expressed in an entrepreneurial vision that energizes and propels the entrepreneur and the startup he/she creates towards a greater future.
Without an inspiring entrepreneurial vision to guide and harmonize actions, there's every possibility that your startup will be stuck in confusion!