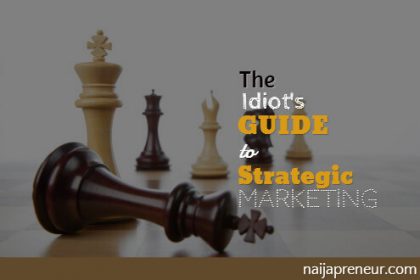 Every smart entrepreneur knows without marketing his/her business is going to die!
But that's just one side of the story. The other side of the story, which unfortunately is the most important side is often confusing to most entrepreneurs. The other side of the story is that most entrepreneurs find marketing difficult.
Marketing is not a one off activity and it requires a great deal of integration. The ability to successfully put together this integrated marketing strategy is what most entrepreneurs are lacking.  To put an end to this, I present to you the idiot's guide to strategic marketing.
The Idiot's Definition to Marketing
Marketing in the simplest way means being everywhere your ideal target customers are. Meaning, go where they go; read what they read; watch what they watch; play where they play. In other words, use all available means to creatively be in their front. What do you do when you get in their front? Start and build a long term win-win relationship with them.
How?
Here's how – develop a marketing strategy!
Most entrepreneurs don't consider a marketing strategy and the few who do at all; here is what they call a marketing strategy:
Develop identity elements [logo, branding] and

 Perhaps a sales proposition [offer]
This is like scratching the surface!
So What's a Marketing Strategy?  
A marketing strategy is how you plan to use the scarce resources AVAILABLE to you to build an ONGOING case that your business, products and services are the OBVIOUS CHOICE for a narrowly defined ideal target customer.
This definition was given by John Jantsch author of 'Duct Tape Marketing'. I like it because it is very complete.
How do I mean?
1. Plan to Use AVAILABLE Scarce Resources
The first reason why this definition is so on point is because of where it started from — how you plan to use scarce resources.
The first thing you want to bear in mind about a marketing strategy is a clear and unbiased understanding of what you own or have at the MOMENT. You can only use what you have to get what you want.
I am often amazed when I meet entrepreneurs who keep complaining about not having money to do marketing. I just laugh. It is true marketing requires money, but the greatest truth of all is that marketing requires CREATIVITY more than it requires money. I have always believed in one simple saying that has helped me so much in my entrepreneurial journey; when you don't have resources, become resourceful.
I am from a very humble background, paid my way through the university doing a part time program alongside business. I started the program in 2007, 6 years after my high school. My first attempt at business was after my computer engineering and networking program in 2003. I had no money, no office and no clients (resources). But I had ideas (resourcefulness).
The first computer I helped to buy for my first client ever, I made friends with the sellers and used their office in the centre of the biggest computer market in Nigeria (computer village) as my contact point. It was a simple win-win collaboration. Using their office ensured I brought them more customers to buy computer. For me it gave my new business the needed credibility for a start up.
I went further to team up with a friend who had leads to sell to but lacked the technical skills to deliver. Together we created a business card, invoice and way bill all carrying the address of the seller at computer village but with our own business name and contacts. When clients go to our office and we weren't there, the real owners simply attended to them on our behalf making the sale and keeping our own share (commission on sale).
I chose computer village because that's where our ideal target customers are and go to seek for what we provide as a business. By being resourceful even without sufficient resources, we were in business.
Again, when you don't have resources, become resourceful.
Meaning, get creative with your marketing. If you are not using your available scarce resources creatively enough to start getting the kind of results you want, however little; then you don't deserve MORE resources. To him who is faithful with little, to him more shall be given. And to him who is wasteful with what he has been given, that which was given to him shall be taken from him!
2. Build an ONGOING case for your Business, Product or Services
This is the implementation phase; strategic marketing is a continuous process. It's not what you start today and stop tomorrow. It must be consistent, continuous, ongoing and never ending. Remember, the day it ends, the death of your business begins!
Many entrepreneurs don't get this part, they approach marketing from a short term view. I will just do a little ad this month and see what that brings me. Guess what? NOTHING!
You have to be ready to keep being in the front of your ideal target customers for as long as your business exists. It is not something you rest on, or get tired of, or think is no longer necessary. You are finished if you do. Remember our idiot's definition to marketing? Being everywhere your ideal target customers are. Here's the missing part; ALL OF THE TIME!
Without this consistency in your marketing, you are not going to get any results. You have to be in their front always. And there is a clause to this; you are not in their front to sell. No, never sell, sell, sell, and sell every time you are in front of your ideal target customers. Why?
They will HATE you for it and they will AVOID you like plague. Instead, being in the front is about nurturing a win-win relationship with them. It's about them first and you second. It is about showing them how much you care about them by focusing on their needs before yours. When you show up in their front, don't SELL, HELP!
In the cyber cafe business I co-started with two other partners, this was our winning strategy. I have written about it in an unusual article business growth 101: how attract, keep and grow profitable customers. Make sure you read it. The basic idea is this; keep showing up in their front to remind them you still exist by being helpful.
Being helpful is not selling; being helpful is creatively coming up with values you can add to their lives for FREE!
3. Become the OBVIOUS CHOICE to a Narrowly Defined Ideal Target Customer
This is the reward stage of the idiot's guide to strategic marketing. This is why you did all you did above, to become the default choice of the ideal target customer. This is why being helpful is the best way to sell; you are the first on people's mind when they need what you offer. Because you haven't been forcing the sale on them, the day they need what you sell or the day you eventually make an offer, they naturally buy.
Why?
Because all along, you have been eliminating all the barriers to the sale by being helpful. You have helped them to make the buying decision easily. They know, they like you and they trust you because you have been there when no one else cared about them.
You have given so much, it's time they reciprocated. At this stage, they would refer you to their friends, talk about you to anyone who cares to listen. They would celebrate you.
But there's a BIG clause!
Marketing without strategy is the noise before failure. For any marketing strategy and corresponding set of tactics to work, you must first narrowly define your ideal client and then apply the strategy towards attracting more happy customers. — John Jantsch
This can only happen if you have been in the front of the right customers. Without this single element in place, all your strategic marketing is a big failure. None of the two points discussed above would work if you've been in front of the wrong audience.
You can only become the obvious choice to the right audience whose needs you can meet. Identifying them is clearly how you become their obvious choice. It doesn't matter how long you stay in front of the wrong audience or how frequent you make your appearances, you can never become their obvious choice.
Your turn
How strategic is your marketing? What challenges are you facing when trying to create a winning marketing strategy?
Share your comments below and please remember to share this unusual article with others.