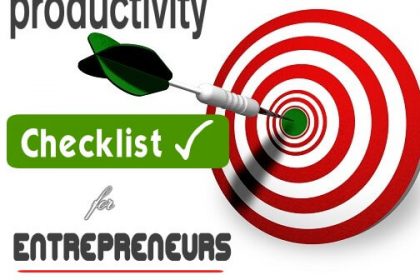 Are you a productive entrepreneur?
In the early days of naijapreneur, I wrote a very disturbing post titled Laziness checklist for entrepreneurs. It has grown to become one of the most searched for phrase on naijapreneur from Google generating thousands of visitors monthly. This is the follow up article.
As an entrepreneur you don't ever consider yourself lazy or unproductive. You rather find yourself complaining of insufficient time, right? But here is the thing; most entrepreneurs are lazy and very unproductive. But before you start throwing stones at me, let's be sure you understand what it means to be productive, ok?
What Is Productivity?
Productivity simply means getting more of the right things done. It is the ratio of time expended compared to results achieved.
I hope that was what you had in mind?
If not, I think I should be the one doing the stoning. 🙂
The very first sign of un-productivity is having more goals un-achieved. The more goals you have still hanging unfulfilled, the more unproductive you are. I know you have so many items on your to do list that's why you often complain of insufficient time, right?
Here's what you need to understand, you are not productive just because you get a lot of stuffs done. Getting a lot of stuff done is being busy —activity. Productivity is about getting more of the right things done. Productivity is about getting closer to your goals one activity at a time. It is not being busy; busyness is the opposite of idleness. Productivity is measured in terms of results.
So here are some questions for you; in your business, are you getting the kind of results you want? In your life, are you getting the kind of results you want? In your finances, are you getting the kind of results you want? With your employees, are you getting the kind of results you want?
If your answer is yes, then you are productive. If no, then we are on the same level. 🙂
How To Boost Your Entrepreneurial Productivity
1. Clarify Your Goals
The first step to getting the kind of results you want is that you define what those results are clearly. The essence of work is to achieve results; we don't work for nothing, right? So before you start working or doing anything at all, clarify what you want to achieve first.
Here's an example, at the start of the year I set out with three simple words to guide my thoughts, actions and expectations throughout the year. I wrote about it here, Effective Planning For 2012: Why New Year Resolutions Fail And What To Do Instead. Those words were produce, promote, and prosper.
Meaning, I will do more —produce, market more —promote and sell more —prosper.
For each of these words I created specific goals and revisit them from time to time. How much of them I accomplish is the measure of my productivity or un-productivity this year.
2. Prioritize Your Goals
Now here is the tricky part for entrepreneurs, including me. You don't find it hard to set goals, right? The hard part is making those goals your priority. Once goals are set, in your quest to achieve them, you get distracted. It happens to every human being, it's normal. Life is complex, so we end up several times in places or activities we didn't bargain for.
What is not normal is continuing on this path like nothing is wrong. What is not normal is not retracing your steps every time you get off course. Your goals are like compass, they exist to get you back on track. They are not just for fancy, they are reminders of what you ought to be doing and pointers of where you need to be heading.
So every time you stray off track, stop everything you are doing and get your priorities right. This means you have to periodically review your activities to know how aligned or how off track they are from your goals. Just going on and on without this periodic alignment checks is how to be unproductive.
3. Eliminate Distractions
In the business of life, distractions abound. Some are self imposed and some are unavoidable. In either case distractions are anything that takes your mind off working on your goals.
So how do you eliminate distractions?
Focus on one task per time: multi-tasking is a myth. You cannot successfully do two things at the same time. At most, you will end up with an average result from each task. Or you end up with so many abandoned projects. When working on a goal, get it done before taking on another one. Just as the great Albert Einstein stated, genius is the ability to focus on one thing until completion.
Watch less TV: I am often surprised when I see entrepreneurs watching TV like normal people do. You are not a worker that closes from work and relaxes with a TV. You are an entrepreneur; your working hours is not fixed. Now don't get me wrong, I do watch TV, but only once or twice a week, mainly in the night during weekends. Not watching TV gives me more time to get some more work done. Make watching TV a reward you earn when you have achieved some specific results.
Become less social: this is going to annoy someone somehow. The truth is this, as an entrepreneur your success is tied to results unlike an employee who might hide under the collective results of others. Keep less friends, party less, chat less, tweet less, facebook less, browse less. All these are what keep you away from doing what you ought to be doing. My being social online or offline is with my goal in mind. I have realized that the more results you achieve in life and in business, the more friends you attract. Unless you are into public relations, there is such a thing as being over social.
4. Buy More Time
Your productivity as an entrepreneur is largely determined by the use of your time and how much you achieve. But time is limited in supply. You don't have more than 24 hours in a day and you need more time to get things done, right? So what do you do? You buy more time.
How?
Get productivity tools: this is very important for you as an entrepreneur. You need tools to get more work done.
My business is very dependent on content development — I create resources that help people, businesses and lives to grow. Meaning, a large part of productivity for me is how much creative writing I get done. Whether it is business proposals, plans or profile or contents for a website, brochure, book, article, training/course or speech, I am always writing.
So, I recently checked on my 3-word goals this year [produce, promote, prosper] and noticed how far away I was from the goal of produce –creating more contents. On further analysis, I noticed it was due to poor power supply. In Nigeria where I live currently, power is an issue and you need power to type. I have a generating set that produces my own power, but then there is the cost of fueling it.
To save cost of fuel, I started writing on paper and retyping later when I put on the generator. This meant I spent more time writing, one on paper and the second on laptop. That wasn't productive at all. I needed to write as long as I could, saving as much as I could both in cash and in time.
So what did I do? I got an Android tablet PC [the alternative to iPad] that have more battery life than my laptop allowing me to type as long as 6 hours straight. Now when the generator is on, I charge it while working on the internet on my laptop. This is helping my goal of producing more contents this year.
Tools are great productivity boosters. Another tool I use to buy more time is my blackberry smart phone. Since power is an issue, with my blackberry smart phone I get all my internet tasks done while on the go. I get and send emails, twitter, facebook, linkedin, blogging and all of my online stuffs are done from my BB.
Lastly, as a business consultant, when working with clients it is important to note every detail as much as possible. In the past, I go about with a notepad for jotting down these details. But this didn't help much as I often had to interrupt my clients asking them to repeat what they had said earlier so I could put it down on my notepad. I solved this problem with a productivity tool known as digital voice recorder.
With this, I simply got every detail of my meetings with clients on record instead of on paper. This allowed me more time to focus on what the clients were saying and helped me to better create solutions for them. And the beautiful part, clients can't deny the said this or that because it is on tape!
Conclusion
Productivity is about how you maximize your scarce resources of time and money to get the results you want. Taking a very close look at the way you use your time and on what you spend your money will help you discover how productive or unproductive you are as an entrepreneur. Productive entrepreneurs use their time to achieve set goals and spend their money to buy leverage [productivity tools] to get more done with less time.
Your Turn
What is your biggest productivity challenge as an entrepreneur?
How have you been coping with this and what additional tips besides those above are you familiar with?
What other productivity tools do you leverage on to get more work done?