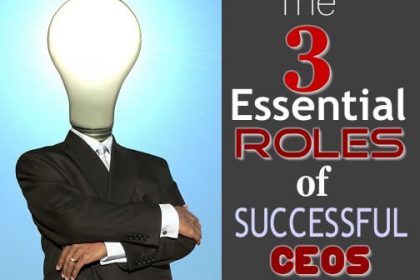 Do you have what it takes to be a CEO?
What are the essential roles of Successful CEOs? A CEO in a very simple term is the leader of an organization. This title is only given to someone who is occupying the highest position in an organization and is solely responsible for the success or failure of the organization.
This means, you are a CEO because of a certain position you occupy (highest management) and certain functions you perform.
As with every position or role, whether in life or business, there are corresponding duties and functions. These duties and functions are collectively called 'responsibilities' and they are what clearly separates one position from the other.
Positions are created in order to define and assign certain duties and functions to them. Without functions and duties, positions and roles are useless. A position is determined by its functions.
Being a CEO therefore requires you to carry out certain functions and duties attributed to the position you occupy. Being in that position confers certain responsibilities on you. Success or failure is measured by how well these duties and functions (responsibilities) are carried out. A successful CEO is the individual who performs these required duties and functions exceptionally well.
However, I have realized, especially in our country Nigeria that a lot of people are occupying positions they know nothing about. They simply go about with the "position myth" believing that once they are in the forefront, success is usually attainable. But history has shown time after time that this is not so. Among the many things this article hopes to achieve, first on the list is making you the reader perfectly understand this fact;
"Being a CEO is not about occupying a position (top management) but about performing certain functions and duties (responsibilities)".
Positions don't necessarily guarantee success, only functions can. Why?  Because where you are (position) is determined by what you do (functions). The moment you stop doing what you ought to be doing, no matter how high above you are, you will ultimately lose that position. It's only by function that a position is retained.
 The 3 Essential Roles Of Successful CEOs
The role of a CEO is a 3-dimensional one involving three major responsibilities. So just as everybody else in your company, you as the boss also have certain key roles in which you have to function. Below is an overview of your work description as a CEO. The whole idea of being your own boss is about to go sour if you are not prepared to do the work that comes with the title.
| | |
| --- | --- |
| THE ROLES OF A CEO | CORRESPONDING RESPONSIBILITIES |
| Leadership | Making the organization Effective –capable of doing the RIGHT things |
| Management | Making the organization Efficient –capable of doing things RIGHT |
| Entrepreneurship | Making the organization Innovative –capable of doing NEW things |
As you can now see, a CEO is a 3-in-1 person functioning as a Leader, Manager and Entrepreneur respectively. So what does it take to successfully carry out these 3 essential roles as CEOs?
That is a subject for another day; this is just an introduction. Watch out for the part two as this is going to be a series and you need to stay tuned by signing up here! Once you've signed up, you are guaranteed to never miss any of our articles because they get delivered straight into your email. SIGN UP TODAY TO GET THE LATEST ARTICLES BY MAIL!
Thanks for reading!