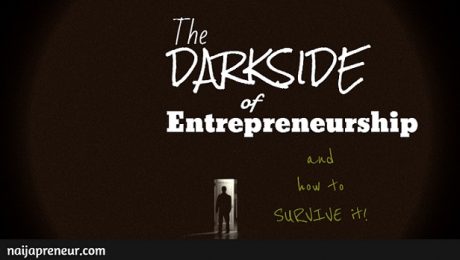 The thought of going into business or doing 'your own thing' as it is popularly called can be very appealing at first. This
is especially true for most people who want to make the switch from the limited world of employment to the unlimited world of business. But sooner or later, the untold harsh realities will begin to set in and the truth is; a lot of people are unfamiliar with these harsh realities.
For the majority of you who have gone into business nurturing only the juicy thoughts of being an entrepreneur, things are about to get very sour. I'm sorry, but there's some really bad news I need to break to you; entrepreneurship as much as it's celebrated also has a dark side. At least, I've been able to identify 8 of them.
I'm sure at the end of this, more will come up from your contributions and that of others in the comment section. Coming to terms with this dark side of entrepreneurship is what this unusual article is about.
8 Harsh Realities Of Being An Entrepreneur
(1) Entrepreneurs get paid last
(2) Entrepreneurs are objects of mockery
(3) Entrepreneurs don't have definite working hours
(4) Entrepreneurs fail more often than they succeed
(5) Entrepreneurs don't have specific job descriptions
(6) Entrepreneurs go broke for long before ever growing rich
(7) Entrepreneurs attract more enemies than friends
(8) Entrepreneurs make their living by giving
Entrepreneurs Get Paid Last
I usually enjoy seeing the reaction on people's face every time I make that statement. It is one of the most effective ways of differentiating a true entrepreneur from a 'wannabe'. Why? Because you can instantly perceive what their real motivation is for going into business. For those with a get-rich-quick mentality, their level of disappointment is usually obvious. But for those who really want to change the world through the power of their idea, they often appear indifferent.
Nobody wants to be the last when it comes to the issue of money, but unfortunately for entrepreneurs, this is one of the realities they have to put up with. Being an entrepreneur often demands that you give up everything you own all in pursuit of an idea whose potentials of success is not 100% certain.
Yet, as an entrepreneur, when your idea eventually succeeds, you'll be the last person to be rewarded from the very idea you invented. This is the harsh reality of entrepreneurs' going broke for a long time before ever growing rich. What makes this so?
The Incubation Period of Your Idea

That idea which often inspires your journey into the world of business will be tried, refined and must be sustained for a very long time before it will eventually hit the mainstream. Every idea must undergo its own incubation period till it reveals its potential for success.
During this period, every other person but the entrepreneur must be paid in order to sustain the idea in this initial startup stage. Employees, contractors, suppliers, marketers, consultants, even customers and other collaborators that will be involved in making the idea work will have to be paid for their involvement, except you the entrepreneur.
As an entrepreneur, you are the mother of your idea and the burden of preserving, nurturing and delivering the idea rests entirely on your shoulders. Your first test as you make your entry into the world of business is the test of your idea. No one is going to buy into your idea easily. So you'll have to sweat it out all by yourself to prove the viability of your idea.
This process of proving your idea's viability is what delays your payment or reward date because it will cost you so many things, both in kind and in cash. Why? Because very few people will work with you during this process for free. As far as they are concerned, your idea is still a foetus and not yet a living entity [brand].
Meaning, the possibility of your business idea surviving is not yet certain, just as every mother knows that until a baby is delivered, anything that can possibly go wrong can still happen. This is the harsh reality of entrepreneurs' high rate of failing more often than succeeding.
It's Your Job to Nurture Your Idea Till Maturity
Like a baby in the womb, your idea must be nurtured or else it will die prematurely. The whole cost associated with preserving, nurturing and sustaining your idea till maturity will be borne by you the entrepreneur. Therefore, in the early days of your business, you will continuously be spending money long before you even start making a penny.
To survive these early days, you must become as a farmer who must cultivate the seed which was planted till it germinates and is fully ripe for harvest. Surviving these early days is your ultimate test as an entrepreneur.
How do you sustain yourself when you've given up everything you own to pursue this idea? How do you survive till pay day? What keeps you going during this challenging phase of your business? How do you survive when the very idea that is supposed to be your means of sustenance is counting on you for sustenance?
Feed on passion!
Passion is what keeps you going till pay day –that sheer joy of creativity that comes with doing something you love.
When everything else seems to be lingering in these early days of your business, go back in your mind to the very moment you conceived the idea for the business. That sudden rush of adrenaline you felt when you first had the thought for the business is what you must keep in front of you during these dark phase of your business.
This is your only chance of surviving till pay day. This will keep you going when everything else seems to be failing. Passion is the fuel you need constantly for traveling down this rough road of entrepreneurship. A lot of people who aren't entrepreneurs will find it hard relating with this level of living and this is why most of the time, entrepreneurs are called crazy, daydreamers, misfits or even fools. This is the harsh reality of being an object of mockery.
You've just got to hang in there living off the conviction that your idea will survive till maturity. That maturity date of your idea is when it eventually becomes a recognized brand in the market you serve. So be sure the idea you are working on is one that you are naturally passionate about, not just because of the money or profit it can generate, but because of the difference [impact] it is going to make in the lives of those you serve. This is the harsh reality of making a living by giving.
If your idea lacks the potential to make a positive impact in the lives of your target market, when the going gets tough, you won't find it hard to back out. Why on earth would you want to hold on to a thing that is neither making you money [profit] nor making you happy [passion] nor making live better for others [impact]?
Over to you
Have you ever found yourself caught up in the dark side of entrepreneurship?
Are there any other harsh realities of entrepreneurship familiar to you?
What other challenges do you face as an entrepreneur in business?
How have you been able to cope with some of these harsh realities of entrepreneurship?
We are a community of entrepreneurs supporting one another, it's important you participate in the on going discussion by sharing your insights about the questions above.
Thanks for your time.
To your business success!
As an entrepreneur, being self-employed is the deadliest business trap ever!
Business, whether online [virtual] or offline [brick and mortar], small or big is governed by the same principles and calls for the same set of basic functions – production, marketing, finance, staffing and so on. Any difference that exists at all lies only in tactics.
Marketing is still about finding, keeping and growing profitable clients, whether your business is online or offline, big or small. The same goes for value creation [production], whether it is a product or service business you run, the reason for offering those products/services is the same -generating income by solving people's problems.
Also, online or offline, big or small, every business needs workers [staffing] and the same principles and functions of leading them apply.
You see, in both business and in life, principles and functions rarely change, what changes is tactics. 'The why' [principle] and 'the what' [functions] are fundamentally the same, what differs is 'the how' [tactics]. So, that you run an online or small business, is no excuse for not structuring  and running your business on fundamental principles and functions that has been the bedrock of every successful business.
Having this consciousness is what makes successful business owners exceptional. They understand from the outset that being self-employed is limiting and from their small beginnings, they begin to lay the foundation for building a company that has the potential to grow and someday operate without them.
Are You DOING Business Or BUILDING A Business?
Doing business is the definition of being a self-employed entrepreneur [freelancer]. When everything about your business is dependent on you as the owner, you're simply doing business. The keyword here is 'dependency'. Being a self-employed entrepreneur means everything about your business revolves around you the owner.
When you don't work, your business is down. Why? Because you are 'working in' [doing] your business rather than 'working on' [building] it. This is the danger of being a self-employed entrepreneur –you and your business is inseparable!
Building a business is the definition of being a Chief Executive Officer [CEO].  When everything about your business is NOT dependent on you as the owner, then you're building a business. The keyword here is 'independence'.
Being a CEO means you run your business as a company and everything about your business doesn't revolve around you as the owner. When you don't work, your business is still working. Why? Because you are 'working on' [building] your business rather than 'working in' [doing] it. This is the benefit of being a CEO –you and your business is separable!
Being self-employed [doing business] is the deadliest trap of business ever. That you are small is no excuse for wanting to be a one-man army. Someday soon, you will no longer be able to do all the things you so easily do now as a result of age, so what will become of your business then?
Someday soon, your small business will outgrow your capacity to meet all your customer's increasing demand, so what will become of your business then?
Then, you'll suddenly realize that all your 'can-do-it-all-by-myself' attitude as a self-employed entrepreneur is counterproductive. Then you will come to terms with the universal truth that one tree does not make up a forest and that one is too small a number to achieve greatness!
Successfully running a business is about profitably helping your clients achieve desired results consistently through the products/services you offer to them. It demands a high level of coordination and execution of several key activities. These activities cannot be handled successfully by only one person over a long period of time, so there's need to create an operational structure/system for effectiveness and efficiency.
Creating this operational system/structure for your business is crucial to your success as a small business. At the head of this structure/system, is where you must operate from as the owner of your business. And the formal title given to anyone occupying this position is Chief Executive Officer [CEO].
Running a Business as a Company is the Essence of Being a CEO
Recently, I began to notice a general misconception among many small business owners especially the self-employed internet entrepreneurs that the CEO title is for the bureaucratic corporate organizations and not for those who want to 'do their own thing'.
In fact, the other day I read the entrepreneurial journey of Ingrid Abboud of nittyGriddy and it really made me think deeply about why many online entrepreneurs shy away from the reality that someday their own thing will outgrow them.
While I can relate with the fact that most small businesses are started from the efforts of only one person at first, this is not enough reason to want to inhibit the growth potential of your business by still running it as a one man show. From the outset, it's important to consciously go about your small business with the mindset as if it were already a big business.
Thomas Watson Jnr., once said about his father, Thomas Watson, the founder of IBM when the company was still a very small business, not even yet known within their locality. His father came home one day and suddenly announced the change of the business name from what it used to be to IBM [International Business Machines].
He said out of surprise he had to ask him why such an audacious global name for a business which was at that time only a one man show. His father replied him by saying that;
you start acting from small the way you'll like to be when you eventually become big.
The CEO title as corporate or bureaucratic as it may seem, comes with its own unique responsibilities and functions. Business is a team sport and every team needs a coach in order to be effective and successful. The CEO is the coach of a business.
Being a business owner is about performing certain functions, these functions are governed by certain fundamental principles that cut across all kind of businesses, online or offline, big or small. Performing these functions is what being a CEO is all about.
The function supersedes the title or position. The title simply serves as an encapsulation of the fundamental functions and corresponding roles required of every business owner. This unusual article is about knowing what these fundamental functions are, their underlying principles, and their corresponding roles.
With this new knowledge acquired, you will stop doing business and start building a business, thereby escaping the deadliest business trap ever –self employment!
A Company is More VALUABLE than a Person [freelancer]
That you are currently operating as a self-employed entrepreneur [freelancer] is not enough reason to think or act small. Look for other smart people to bring on board as vision partners in your company. Share the vision of your business with them; they don't have to be full-time employees for now till you can afford them.
Bring them in as freelancers or strategic partners to work together on specific projects and help build the company. But make sure they share the same values as you, because strategic partnership/alliance can only be formed on the foundation of trust powered by shared values.
Remember always, that you are not simply doing business [freelancer], but rather building a business [company].  Therefore, endeavour to seek out the right kind of vision partners that can fit into your core ideology and culture as a company.
 Two Self-Employed Entrepreneurs Who Built a Company
Built a truly SIGNIFICANT [unique and useful] company –Copyblogger Media LLC by strategically partnering with the likes of Tony Clark co-creator of Teaching Sells as Chief Operations Officer [COO], Sonia Simone of remarkable communication as Chief Marketing Officer [CMO], Sean Jackson the creator of Scribe SEO as Chief Financial officer [CFO], Brian Gardner founder of StudioPress as the product manager for their Genesis Framework and turnkey themes for WordPress and Brian Clark himself occupying the CEO position.
With these 5 member team, Copyblogger Media LLC is growing into one of the most successful social media company in the world today coming up with innovative products such as; Premise, Authority Rules, and Third Tribe.
is also doing the same thing, that's how he created the Human Business Works [HBW] company by strategically partnering with Rob Hatch as COO, Liz Stewart founder Lush Beads as project manager, Josh Fisher as the creative director, Merlene Paynter as director of content, Anne Bryant as the executive assistant and Chris Brogan himself occupying the CEO position.
With these 5 member team, the Human Business Works [HBW] company has successfully launched innovative products/services such as; 501 Mission Place –a nonprofit, Kitchen Table Companies, and Blog Topics.
Size has NOTHING to do with Running a Business as a Company!
On May 1st 2006, in my sitting room, I and my mentor and friend Tolulope Oyebola, [he taught me most of the things I know about I.T. –Information Technology] decided to go into business after we both resigned from working as computer and network administrators for a cybercafé. We co-started NEWCHILD, an I.T. support company.
Prior to this day, Tolulope had been doing business as a freelancer alone on part time even as an employee with the same business name [Newchild].  But on this particular day, he decided it was time to build a real business, so that's when I came on board –to help in the building of a real business [company].
From the outset, we assumed different roles in the business based on our individual strengths and weaknesses as individuals. As the founder and being a core technical person, he took up the CEO [Chief Executive Officer] position in order to technically [value creation] drive the business. I, being a core conceptual person, took up the COO [Chief Operations Officer] position in order to strategically [business development] drive the business.
While he ensured the business consistently had the technical competence to solve customers' problems being an I.T. company. I ensured the business had the capacity to consistently function as a real business by putting the necessary operational structure/system in place. And so together, we began the building of Newchild Information Technologies, as a real business [company].
My first task was to turn Newchild from just an ordinary business [legal entity] into a company [living entity] and to do that required branding. At the time, they were several computer repairs and networking freelancers all operating as self-employed entrepreneurs, rather than as a real business [company]. So, I began the branding strategy by positioning the company as 'The Professional I.T. Support Consultants".
The owned word in this positioning statement is 'Professional'. We wanted to differentiate ourselves by deliberately creating a dichotomy [class difference] in the market. What was this dichotomy? We wanted the market to know that there existed two classes, types or kinds of I.T. support consultants; 'professionals' and 'unprofessionals'.
To communicate our professionalism, I listed out all our services/solutions such as computer repairs/maintenance, networking, web design, training, internet access etc., and branded [renamed] them. Rather than use their general names, I came up with creative names for each.
For example,
Pre-Ups™ which is short for 'preventive updates' is the brand name for our computer repairs/maintenance services;
Shareworks™ is the brand name for our networking services/solutions;
Serverplus™ is the brand name for our internet bandwidth management solutions;
Webcom™ [web development/design services and solutions];
Netlinks™ [internet access solutions],
Proficient™ [I.T. training services] etc.
My second task was the creation of a corporate identity for the company. These included the creation of a corporate website, complementary cards for the both of us, a company profile that described the company in a compelling manner; service brochure that explained in details each of our services and solutions; different sales documents such as service request forms, customer information form, customer satisfaction survey forms, all these further helped in establishing our professionalism as a company. We couldn't possibly be a professional company without having a formal/corporate image.
In the profile, I included the responses we gathered from surveying our existing customers as testimonials; we partnered with a few other freelancers with core competencies in different aspects of I.T. and asked for permission to include their names as part of our team of professionals in return for more freelance jobs from us –they agreed.
What was the outcome of all these unusual efforts? Within six months, we were able to work for the Nigerian Air Force [logistic command, Ikeja], Lagos State Library Board and a few other small businesses. Today, the company comprises of 7 team members including Tolulope and I who still happen to be the only two core employees of the company out of the 7 of us.
So far, we've successfully taken over the management of a once defunct cybercafé and been managing it now for 3 years with about 1700 registered customers; we develop most of the unusual websites in Nigeria; if you doubt my claim, click on this link to view our portfolio.
Tolulope Oyebola, is one of the smartest CEOs I've ever come across. He recognizes his weaknesses and doesn't in anyway try to hide it. Rather, he seeks out other smart team mates to compensate for his weaknesses. This is how together; we've been vision partners since 2003 after he taught me computer repairs and networking as his student.
In fact, Newchild Information Technologies is my very first project as a business development consultant. Tolulope gave me all the freedom I needed to test out all my innovative ideas and strategies.
What Makes an Exceptional CEO?
I have written some detailed articles about the essential roles of every successful CEO in a series before. Although, I am still working on completing the series, below are the ones I have been able to complete so far and I seriously recommend you read them.
When the whole series is completed, I will be making them available as a Free report [ebook]. I will only be giving out this ebook when completed to naijapreneur! subscribers. So if you aren't yet a subscriber, enter your name and email address in the box below this article to subscribe now!
The 3 essential roles of successful CEOs
The Leadership role of every CEO
The 3 essential qualities of effective leadership
Developing the right character for effective leadership
Creating a compelling vision for your organization
How creativity gives entrepreneurs an edge
Over to you
Are you doing business or building a business?
How are you acting big even as a self-employed entrepreneur [freelancer]?
Do you think the title of a CEO is too 'formal', 'bureaucratic' or 'not cool' for self-employed entrepreneurs?
What are the challenges you currently face being a self-employed entrepreneur?
I would really love to hear from you, so feel free to share your thoughts with the community below.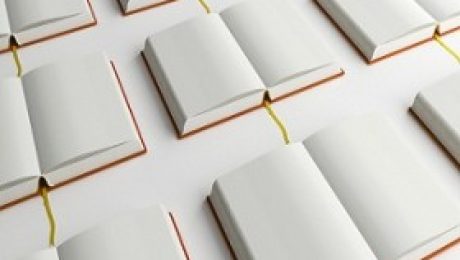 If you are just joining in on this series, here is a link to the two articles you probably have missed;
BG 101: What to do when business is slow
BG 101: How to diagnose the problem of low sales
In the second article of the Business Growth 101 series, I discussed the 3 ways of diagnosing the problem of low sales in business. The main focus was on the customers, your employees, the competition and your operating environment.
This is the 3rd article of the series and in this article; I want to talk about the most important factor that determines either a low or high sales period of any business. That factor is YOU!
You are the Driver of your business
Your business is like a car and you the owner is the driver. No matter how fast a car is manufactured to run, it can never go faster than the driver's capacity to drive it. To go faster, the driver must accelerate more and that means more speed which largely depends on the driver's driving skills. Why? Because, with more speed, comes more risk, hence the general maxim, 'speed kills'.
Meaning, unless you are a highly skilled driver who can handle speed, attempting to drive a car at top speed will only end up in disaster.
The same is true for business. Your business can only go as fast as you can personally drive it as its leader.
Money is NOT always the problem!
In my five years experience both as an entrepreneur and as a business developer, one recurring complain I often get from most small business owners is this;