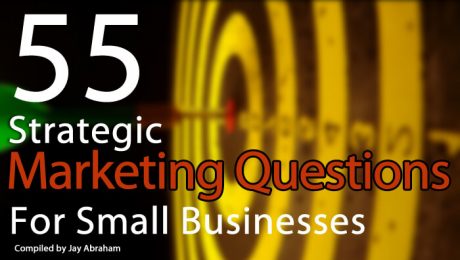 Very few activities can help transform your business as much as marketing does. If gotten right, it can take a small business from complete obscurity to industry limelight.
But then, not many small businesses get their marketing right. And that's why they still struggle.
I have written several unusual articles on the issue of strategic marketing, so instead of loading you with more principles and best practices, now it's time for action.
Here are 55 strategic marketing questions for small businesses from one of the greatest marketing minds alive – Jay Abraham.
These questions are part of a collection of 99 strategic planning questionnaires he uses for his clients while consulting for them. And by clients, I do not mean some struggling solo entrepreneur, but rather 7 figure monthly income generating small businesses.
How to Answer these 55 Strategic Marketing Questions
Don't attempt to answer these questions as if they were exam questions that must be answered on the spot, no. They are deep questions that will require some deep thinking on your part as well as that of your team.
This is not a one off task, that you complete once and set aside for life, no. This is a reference material, one that must be revisited continuously as you progress in your entrepreneurial journey.
So here's my suggestion on how to go about answering them;
Answer them in parts of 5 questions per week. You will be done in 11 weeks.

Try to answer them alone first, don't involve your team.

Not all answers will be applicable to you depending on your business, so focus more on the ones that apply to you at the moment and save others for later.

Organize a strategy session or sessions with your team or strategic partners and go over the questions together, writing down all the inputs gathered.

Create an excel document with all 55 strategic marketing questions in one row and the answers you've gathered for each question in the column in front of the question. Then add another column with action steps to take in order to carry out that answer, or improve on the existing answer. This will take you from just thinking to doing.
Without further ado, here are the questions, enjoy!
55 Strategic Marketing Questions for Small Businesses by Jay Abraham
1. Who is your target market and how did you arrive at it?
2. Describe what your business does completely (what you sell, how you sell it, and who you sell to by industry, commercial category or specific niche).
3. What primary method of generating customers was used to build my business?
4. What is your business philosophy as it relates to your customers?
5. How have your methods for doing business or the product or service line(s) you market changed since the inception of your business?
6. What is your vision for your business for the next: 6 months, 1 year, 3-5 years and 10 years and beyond?
7. What or where is your biggest opportunity that will help you achieve this vision?
8. What is your greatest strength, and is it consistent with this opportunity?
9. What are your sales per employee? Is that above, below, or equal to your industry average and what are the steps you are taking [or going to take] to improve it?
10. What is the "lifetime value" of your typical customer [i.e. how much revenue will he/she generate for you over the entire period he/she does business with your company?]
11. What is the biggest customer complaint about your company, and how does your company address this problem?
12. What is your Unique Selling Proposition or USP [why do your customers buy from you – what is it about your product and/or service that distinguish you from your competition? You may have more than one for different product/service lines or segments of your business?
13. Is your USP a consistent theme in all of your marketing and sales efforts? If yes, how, and if no, why not?
14. Briefly describe your marketing program or marketing mix [all the different types of marketing you use and how they interrelate – i.e; yellow pages, spot advertisements, direct mail, direct sales, telemarketing, online marketing etc.].
15. Who are your biggest competitors and what do they offer that you do not offer?
16. What steps do you take to offset their advantage? Are they working? If not, what needs to be changed?
17. What is your competition's biggest failing, and how do you specifically fill that void?
18. Do you use direct response marketing concepts [those designed to induce an immediate and measurable response?] If no, why not?
19. How much of your time each month do you devote to marketing?
20. Do you have a marketing director? If so, describe his/her primary responsibilities and duties.
21. Do you have a written marketing plan that you adhere to? If so, explain it:
22. Is the plan based on a fixed budget number [i.e. 10,000 per month in the newspaper], or is it a variable percentage of sales?
23. What do your customers really want [be specific, don't just answer "a quality product or service"]? How do you know?
24. Do customers buy from you exclusively or do they also patronize your competitors? What steps can you take to get the main portion of their business?
25. Do you provide incentive bonuses to your employees for creating new and better marketing methods for your company? Explain.
26. What's your market potential [universe] and your current share of that market?
27. What are the ways you've used to acquire your existing customers [from best to worst]?
28. What does it cost you to get a new customer [ie. If you ran an advertisement that cost 1,000 and you acquired two new customers, your cost would be 500]?
29. What is the average sales and profits generated from a new customer in the first year, and how is that information useful in your overall marketing strategy?
30. What is your biggest and best source of new business, and are you doing everything possible to secure this business? If no, why not?
31. What has been your biggest marketing success to date [defined as a specific promotion, advertising campaign, telemarketing script, etc.] and are you still using it?
32. What is your biggest marketing problem or challenge today? Describe it in its entirety as candidly and directly as possible, including personal, financial, and transactional implications it may impose.
33. How many better ways could you reduce the risk of transaction, lower the barrier of entry or reduce the hurdle for your customer, client or patient to make it easier for that person to do business with you?
34. After the initial sale, are there systematic, formal methods you use to communicate and resell your customers? If so, what are they? If not, should there be?
35. Do you have a systematic back-end [selling your own or others' products to existing customers]? Describe how it works:
36. What problem does your product or service solve for the customer? Describe your customers' needs and the positive results your product/service provides?
37. Do you have an adequate supply of customer testimonials, and is there a system in place for their capture? Are they written, on audio tape or video tape, and how are they used in your marketing?
38. In what ways, if any, are the testimonials dramatic, dynamic and compelling to others?
39. Describe the best specific achievement you have produced for one of your customers.
40. Do you actively solicit referral business? If so, how does it work, and if not, why not?
41. Have you ever tried to reactivate your former customers and non-converted prospects? Explain.
42. Have you ever tried selling your non-converted prospects to your competitors? Explain.
43. Do you make consistent efforts to communicate with and educate your customers about what your company is doing to help them? How formal, informal or systematic is the process?
44. In what ways do you try to up-sell and/or cross-sell your customers?
45. Are there other ways or different products/services you could be selling but you are not?
46. Do you need to make money on first-time buyers, or are you satisfied with only making it on the back-end [reorders]? Explain:
47. Does 80% of your sales come from 20% of your customers? What are the implications of your particular ratios?
48. Do you ever barter your products, services or assets with other companies in exchange for their products, services or assets? Explain how it works.
49. Have you used bonuses in your sales/marketing propositions? If so, how did it affect the response?
50. What kind of guarantee or warranty do you give your customers, and how does it compare with your competitors with the industry at large?
51. What is your customer attrition rate?
52. Is that normal for your industry?
53. If it's too high, what do you think is the reason?
54. If it's lower than average, why?
55. How can your customer attrition rate be improved (be specific)?
Conclusion: Want More?
Jay Abraham is still in the business of taking small businesses to the next level. He recently launched a mother lode campaign of educational resources for small businesses which he's completely giving out for free tagged "50 Shades of Jay" – click here to grab them now!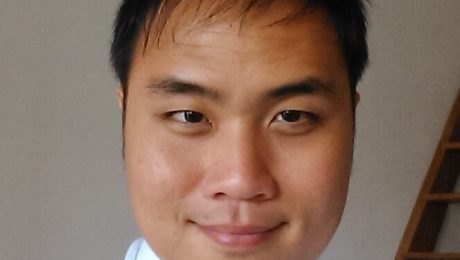 Backstreet Academy is a travel social enterprise platform empowering anyone in developing countries to create and sell a tour or activity to travelers looking for a unique, local experience while benefiting the local community.
Launched in March 2014, by Jamon Mok, who personally hates package tours and is always looking for better ways to travel and connect with locals, especially in places where language is a problem.
He got inspired to create Backstreet Academy whilst travelling through Myanmar and seeing how hard the artists have to work to try accessing the tourist market.
Since then, Backstreet Academy has grown on average 39.2% per month, and currently offers more than 300 activities in over 16 cities around Asia.
How Does it Work?
Just like Airbnb, anyone can create an experience, list it on our website and guests can book directly from them. Even people who cannot speak English, access internet are able to do so through our local translator system. Hosts make 50-60% of the listed price, translators take 10-20%, transport operators take 10-15% and Backstreet Academy takes around 10-15%.
Take it away Jamon!
Interview Questions Part One
ENTREPRENEURSHIP: Awakening the Spirit of business
Can you please tell us a little about yourself and your business? What do you do?, how do you do it?, why do you do it and who do you do it for?
Backstreet Academy is a social enterprise travel platform that empowers locals to create their own tour, workshop or activity for tourists, resulting in a very unique and authentic experience and cultural exchange that cannot be found anywhere else. Imagine a boxing class with a local champion, taking an art workshop with a master who practices an art medium that nobody has ever seen before or going fishing with local fishermen on their boats and traditional equipment.
We started Backstreet Academy mainly with the aim of alleviating poverty through empowering local people with the tools and channels to be their own entrepreneurs and access the tourism market directly with proper training and unique activities. We are also avid travelers who are always looking for offbeat experience that allows us to delve deeper into a country's culture and have a better interaction with locals.
How would you describe your entrepreneurial journey into the world of business? Where there any key incidents or life changing events that inspired your decision to become an entrepreneur?
Richard Branson's autobiography really inspired me to pursue entrepreneurship and create value for the world and it is only through starting my own business that we could create such impact and innovate to make a difference in the world. CK Prahalad's 'Fortune at the bottom of the Pyramid" and MuhdYunus' books about social business also really guided us in the creation of sustainable and responsible businesses that would not only be profit maximizing but always have a positive social impact.
When you started out in business, what specific idea, purpose or vision was your key driving force?
It was always to empower people in a huge way, and building a platform such as backstreet academy was the perfect idea as it really provided many tools to empower people in poverty to be able to access the tourism market and have a marked improvement in their quality of life.
What is your take on the general notion that entrepreneurs should build a business around what they naturally love to do?
Entrepreneurship is tough, and there are so many factors that can break a business, and loving what they do is a small part of becoming the best at what they offer. Loving what they do does help in getting them in being good at it, but I guess the prerequisite is being good at it. Just loving something, however, is purely a hobby.
What is your personal life mission as an entrepreneur? That is; what contributions do you want to make with your life or what would you like to be remembered for as an entrepreneur through the businesses you create when you die?
I would like to be remembered as someone who made a difference for people and that the world has been a slightly better place because of me. It doesn't have to be all grand and world changing, a small dent and a real impact in individual peoples' lives are all that matters. I like to measure my life with the number of people impacted, rather than by wealth.
What would you describe as the purpose of entrepreneurship? That is; what role do entrepreneurs play in the world?
The purpose of entrepreneurship is really to bring resources together, inspire an explosive reaction from what you've assembled as a force for good and pushing the boundaries of human civilization for the better.
Interview Questions Part Two
STRATEGY: The unusual execution of business best practices
How do you identify business opportunities and what metrics do you use to measure their viability?
Business opportunities almost always surface as problems. As long as someone has a problem that they can't wait to get rid off, that's most likely an opportunity. Then it's on to finding out how many people likely have the same problem and how much they're willing to pay for it. That determines the market size and hence viability.
That's the traditional way of determining the viability and profitability of any business opportunity, but that's where many world changing ideas and socially impactful ideas get left on the side because they don't pass this test.
Sometimes it's not immediately visible as a big market (i.e. a lot of people may have the problem but it's rather impossible to determine, like when Thomas Watson said there is a demand for only 5 computers in the world). Technology is probably the hardest to imagine the size and reach right at the beginning to justify building something.
Socially impactful products are probably next in line because your customers often cannot afford to pay for what you develop. Socially impactful products thus should be measured by the positive impact to judge their viability. As long as they have significant positive impact, it can happen one way or another.
Do you have mentors, business coach or external consultants that you work closely with to grow yourself and your business? If yes, to what extent would you describe their impact on your business? If no, are there any particular reasons?
No, there are too many moving pieces and intricacies in any business for a coach to actually accurately recommend solutions, unless he is also as hands-on and deep in the business, which is rarely the case. Unless the problem is very very clearly defined, then it makes sense. However, that is again hardly the case.
How do you strategically use your time as an entrepreneur? What key activities would you recommend entrepreneurs use their time for?
Reading widely to keep abreast of developments, reading historically to understand why and how people made their decisions, always learning new skills, and giving generously to whoever might require it.
How do you generate profitable customers for your business? What unusual approaches do you adopt for marketing your products/services?
The core of our approach is to create a magical experience for our customers, making it memorable for people, and that will naturally spread. That's the best way to market products. We ensure that we're always attentive, updated and always able to create surprises for our customers.
Many entrepreneurs complain about not succeeding in business due to lack of adequate funding, what is your take on this matter and how do you cope with funding issues in your business?
Funding is always an issue for companies of any size. The best way is to ensure that you turn a profit as soon as possible, and as soon as you don't need the money, money becomes readily available. It's ironic, but the logic sits deep in finance, where banks are always there to lend when you don't need it and never there when you need it.
When starting out a new business, who are the likely possible partners or professional service providers you would recommend every entrepreneur work with?
Probably outsource everything you're not the best at or things that are not really integral to the success of your product, such as the accounting, incorporation, logo design, etc. These just burns up unnecessary time and effort without doing anything for the viability of the company, and if not done well will actually threaten the viability.
The pricing of products/services is always an issue for entrepreneurs, what unusual approach do you take when it comes to pricing?
Pricing is never straightforward, especially for new products. The best way is to launch at a pricing comparatively more or less looking at what's on the market, and provide a signal based on that. If you price more, then you are positioning for premium and if less, then you are positioning for affordability. Always look at what customers are actually willing to pay and then just shift prices accordingly.
Interview Questions Part Three
MISCELLANEOUS: Resourceful Recommendations, tools, books, and ideas for entrepreneurs
Since you became an entrepreneur – someone who solves problems for people profitably; what has been your most outstanding accomplishments in the context of business?
Empowering more than 400 people in developing countries to be able to access the tourism market and directly impacting their lives positively through the income, training and exposure we provide. The numerous stellar reviews we obtain from customers are also something that motivates us the most.
Your Turn
I'm so convinced you had more than you asked for in this interview. But just in case, he missed out something, what more would you like to know about the unusual Jamon Mok?
You can ask him further questions below in the comment section and I will be sure that you will get an answer directly from him.
Also, what did you learn from this unusual entrepreneur? What lessons, what philosophy of his strike you the most? What strategies did you pick up from him?
Jamon has shared his unusual story with you, now is time to hear from you. Can't wait to hear what you have to say!