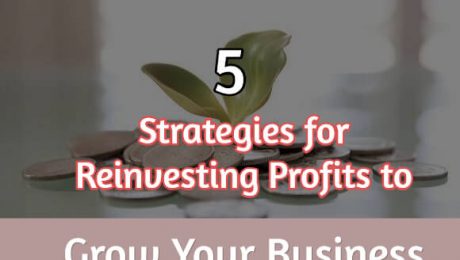 The concept of reinvesting profits is one that every entrepreneur should be intimately familiar with. Especially in your early years in business, the need to pay yourself can greatly impact your capacity to set aside some funds from your profits for reinvestment purposes.
While this is the reality for most growing entrepreneurs and businesses, you shouldn't conform to it. The ideal situation is that you refrain as much as you can from siphoning money away from your business for personal use. That way, any profits that are generated early on can be reinvested back into the company  in order to upgrade and grow the business.
5 Strategies for Reinvesting Profits for Business Growth
But how exactly should you go about reinvesting profits back into your business? To a great extent, it will depend on the needs of each individual business, but here are five reinvestment strategies that will be helpful to most small businesses.
1. Pay Off Debts
If your business is truly generating profits and you have the ability to allocate them where you please, paying off debts should almost always be the primary focus. It's certainly not the most exciting option on the table. Also, unlike some of the other ideas we'll explore, it doesn't result in an immediate, visible impact on the company.
However, paying off debts helps your business become more financially independent, which ultimately provides you with the flexibility you need to grow and change with success.
In an article about strategies for reinvesting profits, Forbes contributor Sunday Steinkirchner articulates this idea by stating that "paying down debt will save you money in the long term, as well as help your credit score." Steinkirchner was speaking from her own experience as a small business owner, and she also made the important distinction that paying off business debts is different than paying personal ones.
This may sound like an obvious assertion, but you may be surprised how easily the lines between personal and business can blur in the early days of ownership. Unless for some reason you happen to be on a particularly tight timeline with a personal loan, however, getting the business out of debt should be the first order of business.
2. Maximize Inventory Or Service Capability
Before we delve into this particular strategy for reinvesting profits, it should be noted that these ideas are not necessarily in any particular order. While paying off debts should almost always be the primary consideration, additional methods of reinvestment can be sorted and reordered (or omitted altogether) depending on your specific needs. That said, taking steps to boost inventory and/or service capability is usually a good idea to consider.
This, of course, depends on the nature of your business. If you're selling products, maximizing your inventory  means investing in additional manufacturing or faster production methods in order to have more products available. If your business sells a service, the equivalent idea could be any number of things designed to maximize your company's ability to provide that service to a wider range of customers.
Either way, the idea is to use profits while you have them in order to equip your business for growth. Expanding a customer base and improving your company's brand recognition are important steps and will be covered below. But if you expand your presence in the market before your business is capable of addressing the needs of additional clients or customers, you're essentially setting up to disappoint.
You may raise concerns about supply and demand with regard to this idea. On a certain scale, it's a valid conversation. For example, if Apple releases its upcoming smart watch in limited numbers, the public will clamor and wait eagerly for more inventory to arrive. This increases demand and ultimately could benefit Apple. However, things work differently when you're starting out.
A contributor to the Houston Chronicle addressed the idea while pointing out that having sufficient inventory allows you to maintain prices and consistency in your business. In other words, if you're short on inventory or service capability and attempting to meet financial goals, you may need to raise prices on what you do have, which is not a good habit to get into when you're gathering a customer base.
3. Expand Your Brand
This is always one of the most important steps for a budding business, and one that requires a great deal of care, strategy, and attention. Particularly in today's business culture, where a great deal of marketing is done online and through social media, many companies devote entire divisions of employees to brand exposure and marketing campaigns.
And frankly, it's never too soon to start (unless, as mentioned, you have a finite ability to serve customers and cannot handle additional exposure just yet).
The trouble with this step is that a lot of small business owners and startup entrepreneurs aren't sure where to begin. Anita Campbell, who is the founder and a frequent contributor to Small Business Trends, was quoted in AllBusiness.com's Top 25 Small Business Tips as listing one of the first places she would start as social media presence.
Basically, this means taking steps to make it easier to find the business through increasing visibility through mentions and followings on Facebook, Twitter, etc.
To a lot of entrepreneurs, most of these may sound gibberish. And that's where the spending comes in. As I mentioned previously, larger companies may hire entire divisions to be responsible for social media. But for a business just starting out, you may be shocked at the benefit of a single, part-time employee in these areas. Finding someone with experience in brand building can not only help get you off the ground with your marketing campaign, but educate you on how it's done in the process.
4. Invest Externally
The idea of externally reinvesting profits may not necessarily seem to coincide with the term "reinvestment," but that's merely due to terminology. The basic concept here is an ordinary investment practice—putting funds behind a given stock, resource, etc. in the hopes of financial gains—on behalf of a business, rather than an individual.
Naturally there is inherent risk in establishing an investment portfolio for business capital, but this can be one creative way to go about generating a "rainy day fund." Essentially, it's a more strategic form of savings.
As for where to invest, it depends on your own preferences and the current market. But as an entrepreneur, you should be creative with your strategies for reinvesting profits and seek out alternative sources other than the usual option – stocks. As the saying goes, you shouldn't put all your eggs in one basket, so diversify your reinvestment options.
Look for ways to invest with low fees and maximum security, ideally in a market with limited volatility but with a strong potential for long-term gains. One of such investment opportunities is the precious metal market, which historically operates with relatively low volatility, and does so on independent investment platforms.
Bullionvault, an online market with precious metal investment opportunities, describes its services as having a commission fee that's the "lowest around" along with low storage fees and maximum security for client investments. As such, the company manages over $2 billion in precious metal for investors worldwide.
Again, this is not to say this specific strategy for reinvesting profits is necessarily right for your business, but it's another secure external reinvestment opportunity to consider different from the usual stock market option. A profit reinvestment strategy like this can essentially function as a more productive savings account should you wish to put a small fraction of your profits to use.
5. Hire A CFO
This is a step that should be approached with extreme caution. However, let me put it this way: if the rest of this unusual article has come across as relatively complex, and the idea of managing financial resources seems daunting to you as a business owner, you may want to consider putting these matters in the hands of a paid, trusted employee.
That is basically the function of a CFO. While such a position is not always necessary or specifically defined in a smaller business, it's worth considering in the right situation. TechCrunch wrote a very thorough article on the topic of when a startup should hire a CFO and made the important observation that the function and perception of the CFO role does change over time.
In fact, it's more or less open to interpretation and structuring as you see fit, which means there is no right or wrong answer as to when you should make a hire. However, the article does make one very vital point that I would like to emphasize:
"If you've held off on hiring that finance guru until the moment you have an IPO or other milestone in your sights, you've waited too long."
In short, don't assume you have to have a huge business on your hands before hiring a finance expert.
Ultimately, this is a strategy for reinvesting profits that is designed to simplify and streamline future financial decisions. You may well see a notable increase in the attention and care you can devote to the aspects of the business you're best at once you have someone else managing the money.
CONCLUSION
There truly are almost-limitless ways of reinvesting profits in your company. Every business has different needs, and there is no universal rule sheet for how to advance a company or get the most out of profits. But these core concepts and ideas can apply to a majority of small businesses while providing strategic ways to improve and expand with limited resources early on.