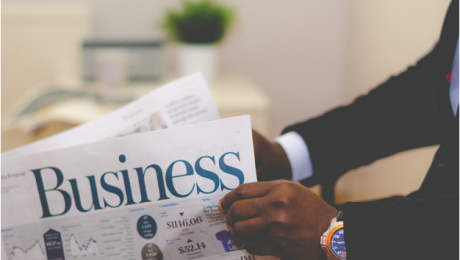 Source: Pixabay
Most startups don't start up with a good business slogan. Some others make effort but fall short of creating truly remarkable slogans or taglines for their fledgling businesses. If only these knew the enormous powers of a good business slogan!
Thankfully, some entrepreneurs know the value of a good business slogan and spare nothing in order to create a befitting business or company slogan. These know that a good business name with a matching slogan, motto or tagline are an asset, a formidable branding strategy which can help keep their brands top of mind for consumers.
In this article I cover 10 such companies that got their business slogans right either from day one or adjusted early on in their startup journey, but before we do that
What is a Business Slogan?
Business slogans have greeted our eyes and ears for as long as advertising has existed.
They are catch phrases or group of carefully assembled words used to drive home the core message about a product, service or brand. They're often used in this format:
Business Name – Business Slogan
For example:
XYZ Ltd – for blinds that give the best view
Following are
5 Benefits of a Good Business Slogan
A good business slogan is great for
Brand identity
Positive brand perception
Brand recognition
Brand recall
Brand loyalty
Your logo, business name, anthem/theme song and slogan/tagline masterfully crafted and combined can stamp your brand in customers minds and good books.
These can even help to convince angel investors and venture capitalists to believe in and invest in your startup, idea or business.
Here are
Some Traits of a Good Business Slogan
Based on close observation we can all agree that a good business slogan is
Acceptable
Brandable
Catchy
Concise
Likeable
Memorable
Simple
Timeless, etc
A good slogan can ask a question, address a problem or sell a benefit. Perhaps you're now wondering about the
Makeup of a Good Business Slogan
A good business slogan can contain
Rhymes
Metaphors
Idioms
Irony
Simile
Personification
Pun
Contrast,
and several other figures of speech that facilitate more effective communication, business communication being key to sustained success.
Now let's get to the crux of the matter. Following are
10 Company Slogans That Got It Right
Let these company slogans inspire you when next you set out to create a business slogan or tagline
AppMakr
Description:   A platform that lets users make apps for themselves, cleverly combining the
words "app" and "maker".
Bridge US
Description:   A bridge literally helps you cross over, BridgeUS helps immigrants cross over into
the US, plus notice how the logo features a bridge. Brilliant!
Collaborate
Description:   To collaborate means to work together, collectively. Collaborate helps teams work
together simply or simplifies collaboration.
Fast Customer
Description:   Waiting on hold is a terrible experience. FastCustomer promises to eliminate
customer care queues.
Farmeron
Description:   Farmeron will handle your farm analytics for you like Google does for its users; so
you can focus and just farm(er) on.
Knewton
Description:   Knewton uses a clever word play on "Isaac Newton". Plus they emphasize
learning and achievement for even learners who never think of themselves as
smart as Newton.
MyLikes
Description:   Everyone on social media loves "likes". MyLikes promises to bring you branded
content you (will) like. Uses a popular industry term to pass its message across.
RidePal
Description:   RidePal uses a question to drive its message home, like why are you still driving
to work when there's RidePal?
Simply Hired
Description:   SimplyHired identifies with a successful brand Google for its niche, hiring. It also
uses the phrase "job search" Good job isn't it?
Triposo
Description:   Going on a trip or travel, Triposo says they're the best travel guide out there with
next gen tech and tools.
Image Source: Angel.Co
Notice how their company names naturally lean into their business/company slogans. There are thousands of entries which had either no slogan or less than average slogans, but these ones; their company name and slogan are in tandem.
Imagine you're an angel looking for companies to invest in and there are hundreds of thousands of options. The ones with a good name and matching slogan will get your attention first. Isn't it?
Great list up there you say, but just how do I create a good slogan for my business?
Here's How to Generate Business Slogan Ideas in Minutes
Brainstorming
One of my favorite methods is to brainstorm slogan ideas. Write them out on paper next to the business name looking out for associations.
You could use dictionaries, thesaurus, Google etc. Try idioms, puns, metaphors and so on to see what works. This process can take seconds, minutes or days.
Business Slogan Maker
If you're in a hurry or would rather use your brain differently you can try business slogan generators also known as business slogan makers. These are tools that automatically generate business slogan ideas based on information you feed in.
They are usually quicker, producing instant results. You can manually add to or subtract from such results or tweak it until it shines.
Ask a Friend/Family
Don't want to brainstorm or talk to machines? Fine, how about friends and family? Asking them for help with your business slogan can make the difference.
One of them who narrowly missed being a copywriter could suggest something awesome. You'll never know until you try.
Quora
You can also take your business slogan ideas or questions to Quora, one of the biggest Q&A forums out there.
Members will rally round to answer your questions and proffer solutions or ideas that can work. Being active and interactive can be a great help in time of need.
You can also use social media, focus groups, polls, surveys, etc.
Conclusion:
Business slogans, taglines or mottos deserve your very best input because they can push your brand message much further than you can imagine. Start putting more effort, thought into creating yours.
Author Bio:
Amos Onwukwe is an AWAI trained Business/Ecommerce B2B/B2C Copywriter, featured in scores of blogs including Huffington Post, Dumb Little Man, Ecommerce Nation, eCommerce Insights, Understanding Ecommerce, Result First, Floship, SmallBusinessBonfire, SmallBizClub, Successful Startup 101, Business Partner Magazine, RabidOfficeMonkey, etc.
He's available for hire.
Twitter: @amos_onwukwe
amylimitx@gmail.com