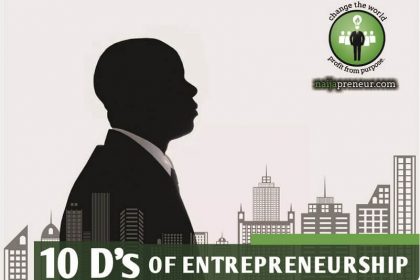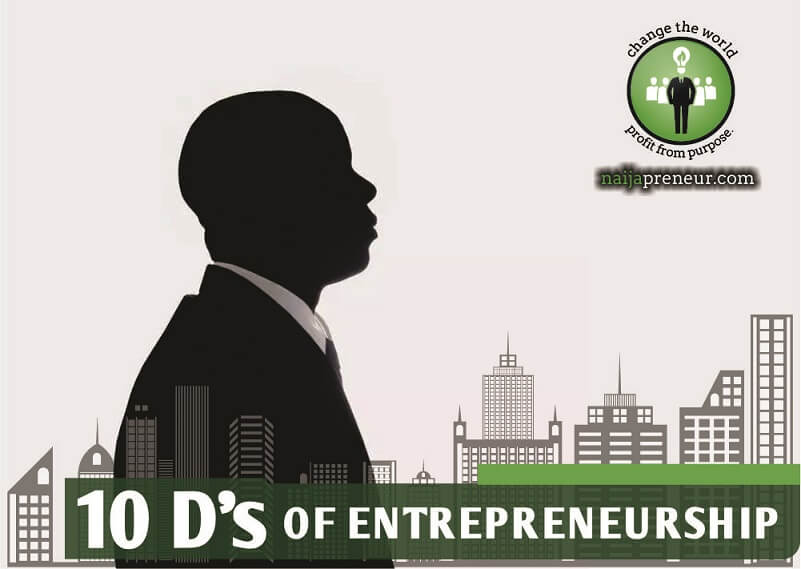 Entrepreneurship is like many other things – you tend to get better at it over time. It's true of the saying, practice does make perfect. By identifying and emulating the qualities of other successful entrepreneurs who have more experience than you, you improve yourself.
Since these qualities are not peculiar to them alone, their transferability makes becoming a better entrepreneur much easier for you.
I recently came in contact with 10 of such winning qualities of successful entrepreneurs compiled by Williams D. Bygrave, Professor Emeritus at Babson College and founder of Global Entrepreneurship Monitor (GEM).
In his book, The Portable MBA in Entrepreneurship; he had this to say regarding entrepreneurial qualities; "as with most human behavior, entrepreneurial traits are shaped by personal attributes and environment".
According to him, "it does appear that entrepreneurs have a higher locus of control than non-entrepreneurs, which means that they have a higher desire to be in control of their own fate".
To capture these entrepreneurial qualities in a way that is easy to comprehend and also easy to apply, he used every day words that began with letter 'D'. These he called the 10 Ds of entrepreneurship.
I would like to share them with you. And at the end of each entrepreneurial quality, I will include a link to an unusual article previously written on it for more insight.
Let's dig in!
The 10 Ds of Entrepreneurship
Entrepreneurs have a vision of what the future could be like for them and their businesses. And, more important, they have the ability to implement their dreams.
ENTREPRENEURIAL VISION: How to Create a Better Future for Your Startup!
How To Create A Compelling Vision For Your Organization
Entrepreneurial Fears: How To Conquer Those Inner Demons Limiting Your Dreams
REMEMBERING STEVE JOBS: How You Can Change The World As An Entrepreneur
They do not procrastinate. They make decisions swiftly. Their swiftness is a key factor in their success.
Effective Decision Making Checklist for Every Entrepreneur
The STATUS QUO Entrepreneur: How To Stop Struggling In Business
Entrepreneurial FOOLISHNESS: How To Become A Better FOOL In Business
Once they decide on a course of action, they implement it as quickly as possible.
Laziness Checklist For Entrepreneurs
EXECUTION: The 4th Highly Effective Business Success Habit
EXECUTION 2015: How to Make this Year Work!
They implement their ventures with total commitment. They seldom give up, even when confronted by obstacles that seem insurmountable.
ENTREPRENEURIAL SUCCESS: What Does it Really Take?
The BURDEN Of Entrepreneurship: Why Entrepreneurs NEVER Quit!
The Greatest Fear of an Entrepreneur and How to Deal With it
They are totally dedicated to their business, sometimes at considerable cost to their relationships with their friends and families. They work tirelessly. 12-hour days and seven-day work weeks are not uncommon when an entrepreneur is striving to get a business off the ground.
The Dark Side Of Entrepreneurship And How To Survive It
The HUMAN SIDE Of Entrepreneurship: Why Entrepreneurs Also CRY!
Entrepreneurs love what they do. It is that love that sustains them when the going gets tough. And it is love of their product or service that makes them so effective at selling it.
BUSINESS: What's LOVE Got To Do With It?
ATTENTION: Does Your Business Matter?
The Business Of AVERAGE: Why It Kills And How To Avoid It!
It is said that the devil resides in the details. That is never more true than when starting and growing a business. The entrepreneur must be on top of the critical details.
7 Proven Warning Signs Of A Dying Business
Business Mastery: How Should Entrepreneurs Be Spending Their Time?
5 Ways To Get MORE From Your Business By Doing LESS
How To Boost Your Entrepreneurial Productivity
Essential Business Skills Checklist For Every Entrepreneur
They want to be in charge of their own destiny rather than dependent on an employer.
SELF EMPLOYMENT: The Deadliest Business Trap Ever and How To Avoid It
The Anatomy Of Employment: Why Becoming Your Own Boss Is The Smartest Decision Of Your Life!
The Paradox Of Business: HUSTLEpreneurship VS Entrepreneurship
The Entrepreneurial Advantage: Why Entrepreneurs Succeed Faster Than Others
Getting rich is not the prime motivator of entrepreneurs. Money is more a measure of their success. They assume that if they are successful they will be rewarded.
THE PURPOSE OF ENTREPRENEURSHIP: Why Did You Become An Entrepreneur?
The Pursuit Of GREATNESS: How To Leave A Business LEGACY
BUSINESS REVOLUTION: 18 Ways to Build a Business that MATTERS!
What Is The Purpose Of Entrepreneurship? 21 Answers from 21 Unusual Entrepreneurs
The Origin Of Profits: An Unusual Strategy For Increasing Profitability
Entrepreneurs distribute the ownership of their businesses with key employees who are critical to the success of the business.
TEAM BUILDING CHECKLIST: 5 Winning Qualities of the Right VISION PARTNERS
LEADERSHIP CHECKLIST: 4 Critical Things Every Leader Needs To Do For Their Team
Over to you
Like all lists, these are not all the Ds there is to entrepreneurship. What other Ds can you add to the list? Drop your comments below.