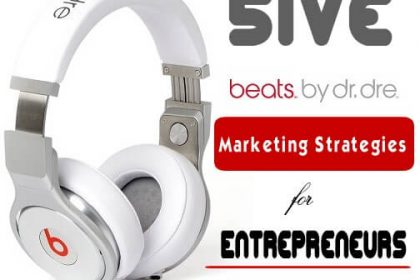 Not often do you get to see a brand quickly become a global phenomenon as the beats by Dr. Dre brand.
Since it launched in 2008, the Beats by Dr. Dre brand has risen to a 53% share of the global headphones market.
Also, the current news about Apple's proposed 3.2 billion dollar acquisition further confirms the magnitude of the brand.
In my typical entrepreneurial style, I decided to dig deeper amidst the ongoing buzz to uncover the behind-the-scene secrets of this powerful brand in order to help you apply them to your business and hopefully achieve similar results.
Enjoy!
How To Create A Global Brand Like Beats by Dr. Dre
Below are 5 powerful marketing strategies deployed by Dr. Dre and his founding partner, Jimmy Iovine that helped them create a global brand.

1.  Know Your Customer
The very obvious marketing lesson you can learn as an entrepreneur from the Beats by Dr. Dre brand is to thoroughly understand your target market.
Unlike other already existing headphones in the market, beats by Dr. Dre headphone was created for not just music lovers, but for a particular kind of music lovers, in this case, hip-hop music lovers.
From the outset, the sound engineering that was used to create the headphones was fine tuned using 50 Cents "In Da Club" track. This clearly defined the target market the product was being created for –the hip-hop music community.
"We wanted to recreate that excitement of being in the studio. That's why people listen."

-Jimmy Iovine, Co-founder
This deep knowledge of their customers has been the critical winning difference for the brand right from the very beginning. From the choice of product name "beats" to the choice of co-founders "Dr. Dre", and Jimmy Iovine, everything about the product screams hip-hop.
Dr. Dre is an icon in the hip-hop community producing great beats for artistes such as; SnoopDogg, 50 Cent, The Game, Kendrick Lamar, Eminem and Mary J. Blige. When it comes to music production, he is regarded as a perfectionist.
Jimmy Iovine on the other hand founded a record label exclusively for hip-hop called Interscope. The label's current artists include Eminem, The Black Eyed Peas, Fergie, Phillip Phillips, Lana del Rey, Kendrick Lamar, Lady Gaga, Dr. Dre, Timbaland, Robin Thicke, Madonna, Schoolboy Q, OneRepublic, Will.i.am, Imagine Dragons and many more.
All these put together obviously reinforces their deep rooted knowledge and presence in the hip-hop music community which eventually helped them to create an innovative headphone. The whole brand was built on pop culture!
To learn more about how to know your customers, I strongly recommend you take this free online Entrepreneurship 101 course by MIT.
2.  Differentiate Your Offering
The beats by Dr. Dre headphones weren't designed only for sound; they add something extra that clearly made them stand out from all the existing alternatives.
They didn't just sound better, they looked "cooler". Compared to all the already existing ones, they were designed to be a fashion statement more than just another consumer gadget. Having a Beats by Dr. Dre headphone wasn't for listening to music alone, it was a fashion accessory.
This clear differentiation is also rooted in their deep knowledge of their target customers, the hip-hop community. They know that this market segment cared about their looks as much as they cared about great sounds. Combining these two powerful value propositions, gave the brand an irresistible appeal.
They wanted to make headphones cool, here's how one of the Co-founders, Jimmy Iovine puts it;
"Apple," he says, "was selling $400 iPods with $1 earbuds. They're making a beautiful white object with all the music in the world in it. I'm going to make a beautiful black object that will play it back."
3.  Don't Sell Features, Sell Benefits
The world's most successful brands do one thing that clearly drives their success and that one thing is this; they don't sell you their products/services, they sell you something else entirely. They sell you value.
I refer to this unusual strategy as Value Proposition Marketing. And I am working on an unusual article and follow-up seminar that will spell out how to apply this strategy in your business.
What's Value Proposition Marketing?
The idea is very simple; people don't buy what's in your product/service, they buy what it can do for them. So rather than boring your prospective customers with all the wonderful things about your product/service, just focus on highlighting all that it can do for them logically [reason] and psychologically [feeling].
That's what the beats by Dr. Dre headphone makers did. They didn't bother themselves about highlighting the special technology used in engineering the product nor did they bother themselves about the design of the product.
In fact, they went against the advice of the initial manufacturers, Monster Cable who told them to market the product by emphasizing the features side of the product. Instead, Jimmy Iovine and Dr. Dre launched the brand using music videos and celebrity endorsements.
To communicate the logical benefit [reason] of the product, all they needed to do was to include the suffix "by Dr. Dre" on the brand name. Leveraging on his track record as a legendary music producer, with his rich deep bass trademark, you need not be told the headphone was powered by and for sound.
Here's what the Doctor himself has to say:
"When I'm making a track I'm trying to capture the sound that makes me go 'now THAT's the shit! And I want that reaction from everybody who hears it. I spend a lot of time in the studio listening to my music through headphones…with Beats, people are finally going to hear it the way they should: the way I do."
And to communicate the psychological benefit [feeling] of the product, the headphones appeared in major music videos and were worn by major hip-hop stars as fashion accessories that really made them look "cool".
Here's how Jimmy Iovine puts it;
"Dre and I decided to market this product just like it was Tupac or U2 or Guns N' Roses."
4.  Forget About Price, Compete On Value
In the wake of the recession in 2008, the beats by Dr. Dre headphones launched into the consumer electronics market selling for $400 clearly defying the laws of economics!
The existing market alternatives sold for $20.
So what was the secret?
The brains behind the brand didn't position the brand as another consumer electronics product; this would have reduced it to a mere commodity. Rather, they positioned it as something more because of the value proposition marketing they had strategically developed.
When people bought beats by Dr. Dre, they didn't see themselves paying for a headphone, which is what they usually perceived the competing brands as, rather, they see themselves as paying for "class".
Using what celebrities use not only makes you cool, it makes you proud. You suddenly perceive yourself as being among the exclusive group of people who use the brand. In other words, you are buying a membership into a VIP club.
This is the same strategy at work in Apple. All Apple products/services are engineered not for everyone, but for the unusual ones. They don't hide this fact; they clearly state it in their popular slogan "Think Different".
Now you probably understand why they are interested in buying over the Beats by Dr. Dre brand. It's simple, great minds think alike and like attracts like!
5.  Diversification
They didn't stop their mission to make music sound as it should with just headphones, they went further.
They took their Beats by Dr. Dre sound technology into HP computers; into Chrysler 300s, Dodge Chargers, and Fiat 500s (all owned by Chrysler), and sold a majority stake in the company in exchange for a $300 million investment by smartphone manufacturer HTC (although Dr. Dre later bought back $150 million worth of the shares).
In July, Beats Electronics acquired the MOG subscription digital music service, adding content to its burgeoning business. This they cleverly called Beats Music – the first streaming music service delivering contextually and culturally relevant playlists, personalized for each user, by real music experts.
Conclusion
These 5 marketing strategies helped two music icons create a powerful global brand, they can help you too if you master them and apply them in your business.
Their success story is a testament to the fact that great products alone don't sell themselves without accompanied by great marketing.
What sayeth thou?
Speak your mind in the comments section!