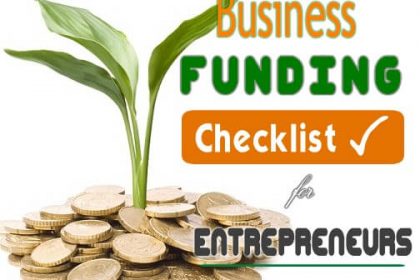 Perhaps the most frequently asked question by entrepreneurs is this; "How do I get funding for my business?"
Without any doubt, this is a very valid question.
However, this is not the right question entrepreneurs should start with. Rather, they should be asking questions such as these;
"Will I get funding for my business?"

"Should I get funding for my business?"

"When do I qualify for funding?"

"How can I build my company without funding or by delaying funding?"
The question of how to get funding presumes that everyone can get funding, if only they knew the method. So every entrepreneur goes in search of the almighty formula for business funding and when they eventually get turned down by potential investors, they wonder what went wrong?
Here's the painful truth;
Not every entrepreneur qualifies for funding. Getting your startup off the ground takes a lot of work. Don't shoot yourself in the foot by seeking funding before you get the basics in place.
In this unusual article, I will be addressing 9 brutal facts about business funding that most entrepreneurs looking for money often overlook.
Business Funding Checklist for Entrepreneurs
Where you are in your entrepreneurial journey will dictate how you should think about securing funding for your business. The following 9 brutal facts will help you clarify where you are, help you refine your thinking about funding and better prepare you for the herculean task of raising capital for your business.
This is where it all begins, that awesome moment when you are struck by a million dollar business idea. As I have previously written, this is the easiest part of the whole entrepreneur's journey. Why? Because investors don't put their money on 'virgin ideas' they bet their money on 'working ideas'.
What many entrepreneurs often fail to realize is this, there's a world of difference between a 'virgin idea' and a 'working idea'.
Virgin ideas: are those ideas that haven't been tested in the real world. They are those ideas that haven't made it to the market. They are the ideas that have been practically endorsed with cash from real world customers and I am not referring to your family and friends.
Working ideas: are those ideas that have been tested in the real world. They are those ideas that have made it to the market, they have been practically endorsed with cash from real world customers because they solve real world problems. A working idea is an idea that is making money or has the potential to make money because of market acceptance. The potential to make money is measured by the degree of market acceptance.
For example, if you've just scribbled an idea on a piece of paper and feel it's the next big world-changing idea, then you've got a lot of homework to do before you reach out for funding. No potential investor will take you seriously if you don't first do the research and prep work.
According to the Small Business Administration, about 600,000 new businesses are started in the U.S. each year, and the number of startups funded by VCs was about 300. This means that the probability of an average new business getting VC is about 0.0005 (300/600,000), and it also means that 99.95 percent of entrepreneurs will not get VC at startup. Most VCs like to invest in ventures after the potential has been proven and the risk reduced.
This is one of the major reasons why seeking for funding isn't the first question on your mind as an entrepreneur. The first question on your mind, should be this; what problem is this idea solving and for who?
Your idea needs to be validated in the real world. And what better way to validate your business idea than to test it with potential customers?
If investors are only interested in 'working ideas' –ideas that have been practically endorsed with cash from your customers, then it's very natural for them to know your customers. Who are they? Where are they? And how will you get them?
Those are the first questions you need to answer. This task should take up half your time.
Adequate knowledge of your customers and their problems is critical to acquiring funding for your business. The very reason investors bet their money on 'working ideas' is because they know no matter how world-changing your idea may be, if no one cares enough to pay for it, then it's no good to anyone.
Businesses exist to serve the customer, businesses make a profit by solving customer's problems. So if your business doesn't have customers before approaching potential investors, then it only means one thing; your idea is not viable. So don't even bother reaching out for funding.
The most obvious proof of a 'working idea' is the passion of the founding entrepreneur. You don't tell investors how passionate you are about your business ideas, they see it or don't see it based on how far you've gone to make it work in the real world.
The length of your business plan does not communicate your passion, neither does your grammar/vocabulary. What communicates your passion is the extent you have gone to make your idea happen. Your passion is communicated by real world results. Like I always say; seeing is believing –stopping telling me, show me!
So before you head out in search of funding, put your passion to work through the creation of the actual products/services your business is offering to customers in exchange for their money. Don't just stop at product development, take it to the market for real world testing, gather as much feedback as possible from your customers to help improve your initial product launch.
The worst thing that can happen to you as an entrepreneur is to show up before investors with nothing but your 'virgin idea'. The proof of your passion is the creation of products/services that people in the real world have shown interest in. Passion is not passive, passion is active –meaning you communicate your passion by working on your ideas and putting them to test.
You can't expect to obtain funding for your business without contributing a fair share yourself. According to a recent study on the source of business funding by the U.S. Census Bureau, 60.3% of business funding came from personal savings and a mere 0.4% from Venture Capitalists.
I know this will probably shock you, but nothing can be truer. Contrary to popular beliefs, investors don't bet their money on an idea that the founding entrepreneur haven't personally given their all to make happen. In fact, there's a popular saying to back this up; "put your money where your mouth is".
So aim to fund 25% to 50% of your business from your own pocket. This shows prospective lenders and investors that you are personally assuming some risk, and are committed to your business success.
After your money, another resource potential investors want to know how much you've personally invested into your idea is time. This is one of the reasons I often tell wannabe entrepreneurs to give up their jobs and pursue their entrepreneurial dreams full time.
I know it may sound very harsh, but really think about it, who would you rather bet your money on; someone working on his dream part-time or someone working on it full-time? In fact, who is more likely to succeed; the part-time entrepreneur or the full-time entrepreneur?
Raising capital is not a quick and easy process, it takes time. You'll have less time to focus on growing your company organically as you'll be busy meeting with potential investors and drafting presentations. There's more to business funding than just collecting investor's money. So from the outset, you need to clarify your expectations.
What exactly are your goals for the business? Do you want to try to build a company on your own? Or do you want to try to build the next leading brand in your industry?
As a founder, you will be giving up a portion of your company to investors for capital and resources. So you should be very cautious as to who will be helping you grow your business. On a personal level, are you going to be able mentally to handle reporting to a VC and conducting board of director meetings? Are you going to be okay if, in the future, the board decides that you are no longer the best person to lead the company?
These are all questions you need to ask yourself in advance.
If your primary motivation is to be your own boss, then you don't want an investor who will take a controlling stake in your business and, in turn, call the shots. A silent investor is probably more appropriate.
If, on the other hand, creating a new product or service is your primary motivation, then finding an investor with the management expertise to grow your business in exchange for management control is probably appropriate.
Investors doesn't invest in businesses, they invest in people. Why? Because money doesn't run businesses, people do.
The quality of your character as an entrepreneur can and will affect your capacity to get funding for your business. I have often emphasized this, business is not different from life, business is an extension of life. What you do in your personal life reflects in your business. Why? Because at the core of business is relationship.
If you have a questionable character, it will tell in your business relationships. No wonder they say integrity is a social capital. Can people trust you? Do you keep your word? How well do you repay debts? Are you transparent and accountable? Are you disciplined? Are you a man or woman of values?
When it comes to seeking for funds for your business, just as everything else in life, your character precedes you. It's like a smoke and can be perceived long before your arrival. So guard your character with all thy might, it's a social capital that can be converted to cash!
Investors don't expect that you would be the only one to build your business. The responsibilities of building a successful business outweighs the ability and competencies of an individual. That's why investors only invest in companies with strong management team or partners. No investor is going to give a one-man army money!
Before you head out in search of funding for your business, surround yourself with the right network, team, partners or association of skilled individuals that would compensate for your entrepreneurial foolishness.
Investors are bombarded daily with countless business ideas. The irony is that most of these business ideas are clones of already existing businesses. To get the attention and funding you need, your business idea must be strategically differentiated from all the existing competitions out there.
A brand is a product/service that is SIGNIFICANT –unique [different] and useful [making a difference].
One of the reasons startups like Apple, Microsoft, Facebook and Google got funding was primarily because of their brand. They were not "me too" companies, they were strategically differentiated in the market.
Another important element of branding is your marketing. It is not enough to be unique and useful, you must continuously communicate to the market your uniqueness and usefulness. What good is an unknown brand?
So apart from being SIGNIFICANT, be VISIBLE.
Over to you
This is obviously not all, so I'm counting on you to move the conversation further by sharing other brutal facts most entrepreneurs overlook while seeking for funding.
See you in the comments sections below!