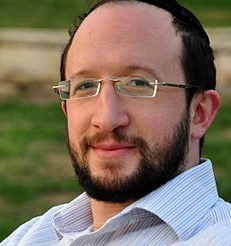 Welcome to another edition of the Unusual Entrepreneur Interviews and today we have here with us unusual entrepreneur Dov Gordon. He is the alchemist entrepreneur of The Gordon Group, a company that is passionate about helping entrepreneurs attract a steady, consistent, predictable flow of new customers and clients.
I'm so excited to have him on the unusual entrepreneur interview series because Dov is one of the few people who have a knack for getting to the root of very complex business ideas. You will be amazed at is simplistic approach to entrepreneurship.
If you are just joining us for the first time, this is the unusual entrepreneur interview series. It is a parade of unusual entrepreneurs who are changing the world and profiting from purpose. Profiting from purpose by changing the world isn't an impossible dream as many tend to think of it, but a realistic one as many unusual entrepreneurs have extraordinarily proven. Click here to read more unusual entrepreneur interviews.
Take it away Dov!
Interview Questions Part One
ENTREPRENEURSHIP: Awakening the Spirit of business
1.       Can you please tell us a little about yourself and your business? What do you do?, how do you do it?, why do you do it and who do you do it for?
I help entrepreneurs and professionals build a steady, consistent, predictable flow of ideal customers and clients.  How?  By showing them how to focus on the few marketing inputs that produce significant output and ignore all the hype and nonsense.
 2.  How would you describe your entrepreneurial journey into the world of business? Where there any key incidents or life changing events that inspired your decision to become an entrepreneur?
Well, I've never had a real job.  My first venture into entrepreneurship was by joining a networking marketing company in my late teens.  While that didn't produce notable income, it did help me learn the value of repeatable systems.
I've been a student of personal development, marketing, management, advertising and so on from about age 13.  After getting married at 21 I realized I'd need to start earning a living somehow.  I had read about coaching somewhere and it seemed to fit my strengths.  So I enrolled in a coach training program which gave me some tools to get started as a coach.
 3.   When you started out in business, what specific idea, purpose or vision was your key driving force?
I just wanted to be doing something I was good at.  I'm really good at helping people see their situation, and their most promising next step, more clearly.  And I genuinely care about people. But other than that, I had no grand vision other than to find a way to do what I enjoy and support my wife and baby.
4.  What is your take on the general notion that entrepreneurs should build a business around what they naturally love to do?
You have a big advantage if you're building a business around what you love to do.  But "business" presupposes that you'll have customers.  And to have a customer you need to be solving a problem someone has and doesn't want – or enabling a result they want and don't have. These latter ingredients are even more important than doing something you love.
5.  What is your personal life mission as an entrepreneur? That is; what contributions do you want to make with your life or what would you like to be remembered for as an entrepreneur through the businesses you create when you die?
I get excited about simplicity.  About helping people cut through the fog that keeps us going in circles; that have us overcomplicating life. If people point to me and say "He's the guy who helped me realize that growing my business really could be simple," I'll be happy.
6.   What would you describe as the purpose of entrepreneurship? That is; what role do entrepreneurs play in the world?
Entrepreneurs are people who direct resources from where they are creating low value to where they create higher value.  I forget where I learned that.  Maybe Peter Drucker.  But that's essentially it.  It's about taking a resource of one kind or another and enabling it to produce more for someone who cares enough to pay for that increase.
Interview Questions

Part Two
STRATEGY: The unusual execution of business best practices
7.    How do you identify business opportunities and what metrics do you use to measure their viability?
 You need to be very clear about the following:
What products will I offer?  Not offer?  Set clear criteria for what you will and won't sell and why.
What markets will I serve and not serve?  Again, set clear criteria for the kinds of customers you will and will not be serving.
What's your competitive advantage?  The best way to think about this is "How do those customers I want to attract need to perceive me / my products / my services in order to want to do business with me?"
What capabilities do I need to create that competitive advantage?
What are the minimal financial results I need to support these operations / capabilities?
Now, look how simple this is.  When you build the capabilities, or the operations, you're now doing what you need to do to create the right perception in the minds of the people you most want as customers. Since they perceive you as the one who can give them what they want, they buy.  This gives you the finances you need to keep up the cycle.
This is a really rough sketch of this process, if you would like a more detailed explanation, you can email me dovgordon@dovgordon.net and I will send you my "strategy framework."
8.   Do you have mentors, business coach or external consultants that you work closely with to grow yourself and your business? If yes, to what extent would you describe their impact on your business? If no, are there any particular reasons?
Mentors are critical.  I was going in circles for years.  It was only after I finally came across a coach who I felt would really help me – and borrowed the money to pay for a year of his help – that my business really turned around. There are just some things that you will not figure out on your own.  If you don't have a coach or a mentor to guide you, to help you master the few skills that will really matter to you; you're just not serious about your business.
I'm also a big believer in masterminds.  Since 2006 I've been leading one mastermind group or another, always organized around the direction I needed to be going in.  I'd go out and find people who were a little ahead of me, but who could benefit from what I had to offer, and get us organized. This, too, is an essential ingredient.
9.    How do you strategically use your time as an entrepreneur? What key activities would you recommend entrepreneurs use their time for?
It's not one activity or another.  It's more about knowing your priorities and getting them done, one at a time.  Most people don't know their priorities.  They think they're too busy, so they don't slow down enough to think.  Fact is, clear thinking is your highest paid work.  If you don't regularly make time to step back, reflect and think, again, you're just pretending.
 

10.   How do you generate profitable customers for your business? What unusual approaches do you adopt for marketing your products/services?
I don't have any unusual approaches.  Personally, most of my customers and clients come via joint venture teleseminars.  A JV partner will promote me to his or her list.  Some of their subscribers will register on my site for a free teleseminar — where nothing is sold, believe it or not. And then over time, I will make offers to my list after they get to know me.  That's my 'secret sauce.'  Simple, really.
11.   Many entrepreneurs complain about not succeeding in business due to lack of adequate funding, what is your take on this matter and how do you cope with funding issues in your business?
  I don't believe it.  Funding is a symptom, not a cause.
12.   When starting out a new business, who are the likely possible partners or professional service providers you would recommend every entrepreneur work with?
Get the details handled by someone who is good at it.  If you're not good at bookkeeping, don't do it yourself.  Hire someone.  It will save countless hours of wasted time, mistakes and more.
13.   The pricing of products/services is always an issue for entrepreneurs, what unusual approach do you take when it comes to pricing?
 What I've learned over the years is that it really is true that you will be paid what you believe you are worth.
Your Turn
What more would you like to know about the Unusual Dov Gordon? You can ask him further questions below in the comment section and I will be sure that you will get an answer directly from him.
Also, what did you learn from this unusual entrepreneur? What lessons, what philosophy of his strike you the most?
Dov has shared his unusual story with you, now is time to hear from you. Can't wait to hear what you have to say.