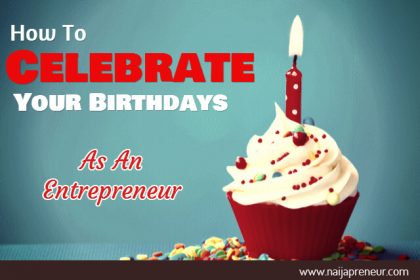 How do you celebrate your birthdays as an entrepreneur?
I marked my 26th year birthday yesterday (July 25, 2010) and I'm so sorry I couldn't invite you all to come and jolly and party with me. I'm sure you can imagine what a party of about 4,515 guests will look like?
So every year because of my inability to invite my online tribes for my birthday, I create and give away a remarkable birthday present that can be enjoyed by everyone anywhere in the world.
I learnt this philosophy from a mentor of mine, Seth Godin who uses his birthdays as a means of making a contribution with his life and gifts. This year he used his birthday to accomplish two great things; (1) He created and gave away an eBook he titled "THE INSURBODINATES" (2) He used his birthday to raise a sum of 50 thousand dollars for the provision of clean water supply for a poor village in Africa!
WOW!
We are all used to getting gifts or presents for our birthdays, while nothing might be wrong with this age long phenomenon, we can create a twist and use it to our advantage as entrepreneurs. Rather than expecting birthday gifts from others as usual (still collect when given, don't turn them down), but do much more than collect; why not create and give out birthday gifts instead? You see as an entrepreneur everything matters, even how you spend your birthdays!
Nothing must be overlooked or underutilized, every moment, every event and every action counts; nothing must be wasted. As entrepreneurs we owe a greater responsibility to the world; we are nature's instrument for creation and therefore are custodians of the needs and problems of humanity. They look unto us for the continuous provision of timely, unique and useful solutions to their existing needs and problems. We must never let them down. We are to use everything about us for the common good of all!
The idea is to have each year of your life tied to one very significant contribution you want to make in the world through the use of your life and gifts. I was chatting this morning with one of our naijapreneurs (Made in Nigeria Entrepreneurs); Tolulope Olalekan and I asked her how big was the dream she had for her interior décor company (Rubbies & Sapphire) and she began to list a few goals she had planned for her company. Then I asked when her next birthday was?
With each year of our lives as entrepreneurs we are to use it as a benchmark of how much contribution we are making. The goal could be the launch of a new product or service to your existing line of business, it could be the launch of a new branch network, it could be the diversification into an entirely new industry, it could be the donation of a particular portion of your profit to any charity of your choice, it could be sharing for FREE your products/services to members of any community you like, it could be the sponsoring of one or two students whose parents are incapable of sending to school, it could be the launch of a foundation, it could be throwing a birthday party in a motherless babies home or for the less privileged ones or even your customers!
Whatever it is you choose to do with your birthday the only condition as an entrepreneur is that it must
"MAKE A SIGNIFICANT CONTRIBUTION THAT WILL HAVE A POSITIVE LASTING IMPACT!"
The benefits of this seemingly minor act can be awesome for your journey as an entrepreneur. Top on the list is that it serves as a source of motivation and self-renewal. What do I mean? There's something about our birthdays that seems to get our juices and emotions high. We are all familiar with the excitement that comes with it. The idea is to convert all that excitement and emotions into a positive energy for creation. You would be amazed at how much difference things can seem with your birthday around the corner.
My birthday present to the world this year had been in the making since March when I first conceived the idea. Somehow it has been dragging due to one thing or the other; in fact I had to redo it all over again like three times before its final look. But guess what? As soon as my birthday drew closer and I realized I hadn't thought of my gift to the world, it suddenly hit me; "why not use this as your gift?" In summary, I got the gift finished by 3am during the early hours of my birthday!
The question is this; "what had been keeping me since March?" I hadn't found enough motivation to pull it off. But the mere thought of my birthday and the gift I had to give to the world, was enough motivation to pull it through. A wise man once said a very long time ago;
"If you've found a WHY (reason/motivation) and it's big enough, the HOW (action/passion) will emerge!"
It's your birthday after all; why not use it wisely for the common good of humanity? Rather than sitting and waiting for gifts, be the GIFT!  Make a contribution that will forever be remembered long after your birthday has gone.
This website is my 26th birthday gift to the world – www.naijapreneur.com or www.9japreneur.com
I hope it makes the difference it was created for!
Thanks for reading!
How have you used your birthdays to make the world a better place? Kindly share your thoughts and comments below